Jeff Lau's threequel beat off competition from family animation Storks during quiet week.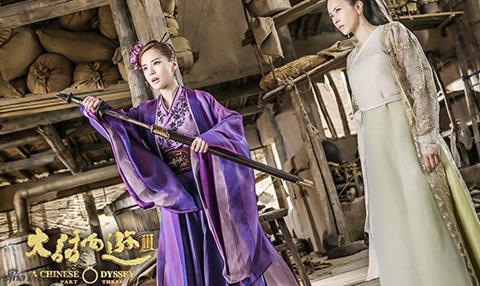 As Storks and other new releases failed to impress at the Chinese box office, A Chinese Odyssey: Part 3 remained top for another week from Sep 19-25. The latest instalment of the fantasy comedy franchise, already a career high for a Jeff Lau-directed film from its first week, added $12.70m from a 12-day total of $49.07m.
Thanks to strong word-of-mouth, the coming-of-age romance Soulmate climbed two places to number two in its second week, overtaking S Storm and Cock And Bull, posting $10.05m for $20.60m after 12 days.
S Storm and Cock And Bull each dropped a notch to third and fourth position respectively. With $9.98m for a 12-day total of $27.40m, S Storm has become another successful Hong Kong cop thriller this year, after Cold War 2 and Line Walker.
Crime comedy Cock And Bull earned $6.40m for $17.88m after 12 days, but it is unlikely to match the success of director Cao Baoping's previous film The Dead End, which grossed $46m last year.
Two new animations opened in fifth and sixth. Warner Bros' Storks was the week's highest new entry with $5.07 from its three-day opening weekend, which exceeded The Peanuts Movie's debut by 75% and was on par with Hotel Transylvania. China was the biggest among the 33 international markets that opened day-and-date with its North American debut.
Japanese animation Chibi Maruko-chan: The Boy From Italy launched with $2.78m from its first three days.
Rounding out the weekly top 10 were Star Trek Beyond on $2.45m for $63.49m after 24 days; Nine Lives on $1.86m for $15.70m after 17 days; new release Bastille Day on $1.72m from its first six days; and The Shallows on $1.32m for a 17-day total of $14.30m.
Last week's box office dropped approximately 46.88%, without a single-day total that reached RMB100m ($15m). The September box office as of yesterday was only approximately 55% of the same period last year.
All eyes are now on the National Day holidays for kick-starting ticket sales. High-profile releases include I Belonged To You (Sep 29), Operation Mekong and L.O.R.D.: Legend Of Ravaging Dynasties (Sep 30) and Mission Milano (Oct 1).