More Chinese films enter the charts; Transformers 5 loses momentum.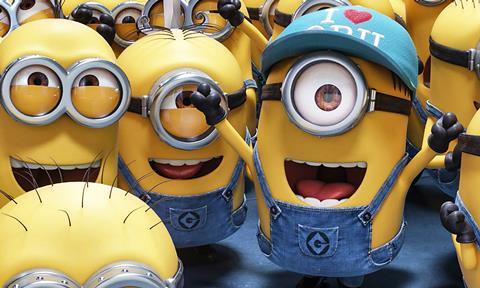 Universal and Illumination's Despicable Me 3 opened to a record-breaking weekend at the Chinese box office in the period of July 3-9, raking in $63.96m from its first three days.
This represented the biggest opening weekend for an animation, surpassing the record held by Kung Fu Panda 3, which is currently the second highest animation of all time in China.
Despicable Me 3 has also brought the franchise to new heights, as its opening weekend has already outgrossed the final gross of both Despicable Me 2 and Minions.
Paramount's Transformers: The Last Knight failed to score a hat-trick at the top of the Chinese box office. After sitting atop for two weeks, it fell to second place with $21.91m. Its 17-day total of $215.56m made it the fifth highest non-Chinese film and the 11th highest overall, overtaking Jurassic World, Avengers: Age Of Ultron and Warcraft.
Transformers 5 has lost much of its momentum – edged out by Despicable Me 3 and two new Chinese films to fourth place on both Friday and Saturday before bouncing back to the third on Sunday. It will finish behind its predecessor Transformers: Age Of Extinction.
Despicable Me 3's sensational opening drove last week's box office upwards, by approximately 18% week-on-week. Apart from the top two positions from Hollywood, the rest of the top 10 belonged to Chinese cinema.
The House That Never Dies 2 opened solidly in third place with $20.28m from its first four days. The Chinese horror thriller scared off Transformers 5 and topped the box office on its opening day (Thursday) and remained in second spot throughout the weekend after Despicable Me 3's opening.
Apart from the haunted house setting, the new horror sequel bears not much resemblance to its original and has a different director (Joe Chien) and cast (Julian Cheung and Gillian Chung). The original film scored almost $60m (based on current exchange rate) in 2014, a new benchmark at that time for a local horror genre.
Local sci-fi thriller Reset fell to the fourth with $10.43m for $27.59m after 11 days; ahead of local slapstick comedy The One which opened with $10.38m from its first three days. The latter, starring Lu Zhengyu (who is also the director), popular comedian Fan Wei and Taiwan actress Amber Kuo, was originally scheduled for a Chinese New Year release.
Several Chinese holdovers rounded out the top 10. Hong Kong auteur Ann Hui's Our Time Will Come maintained in sixth place with $3.80m for $8.66m after nine days; Zhang Yang's Tibetan pilgrimage docu-drama Paths Of The Soul continued to impress with a high per-screen average on $3.60m for $12.44m after 20 days; fantasy comedy Wished dropped from third to seventh place on $3.08m for $9.86m after 11 days; historical war drama Battle Of Xiangjiang River on $2.76m for $4.76m after 10 days; Herman Yau's Hong Kong relationship drama 77 Heartbreaks on $2.49m for $10.22m after 17 days.
Outside the top 10, it's worth mentioning that Indian inspirational drama Dangal had its last day in the cinemas on July 4. With almost $188m after a lengthy two months, the film currently stands as the highest grossing non-Hollywood foreign film and the 17th highest grossing film overall.
It's set to be showtime for high-profile Chinese-language films over the summer holidays, as no Hollywood tentpoles have been dated for July and August. Coming up this week, Wu Kong, Fist & Faith and Da Hu Fa are scheduled for July 13.