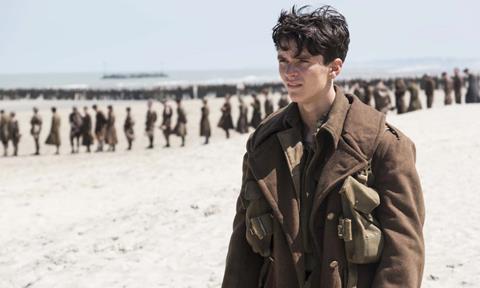 After retaining the China box office crown for five straight weeks, the record-breaking Wolf Warriors 2 has finally been taken down as Dunkirk debuted top, taking $27.54m from its three-day opening weekend (Aug 28-Sep 3).
On Friday, the Second World War drama delivered the biggest opening day for director Christopher Nolan in China, beating the record held by Interstellar. The latter film opened on a Wednesday and went on to gross $109m in 2014.
While Dunkirk was the clear winner for the weekend, it won the weekly battle only narrowly. Valerian And The City Of A Thousand Planets followed closely in second place with $27.39m. Its 10-day total stands at $55.36m, overtaking Lucy to become director Luc Besson's biggest film. China has also become his new sci-fi extravaganza's top market worldwide.
Wu Jing's Wolf Warriors 2 trailed closely in third place with $25.51m. It was pushed to third on Friday when both Dunkirk and Gintama opened, but it fought its way back to second place on Saturday, its 38th day on release. Its 39-day total stands at $806.96m and its run has now been extended to Sep 28.
Paradox fell to fourth place with $9.28m, taking its 18-day total to $73.04m. The Hong Kong action drama has become the fourth biggest local summer blockbuster from June to August this year, after Wolf Warriors 2, Wu Kong and Once Upon A Time.
Gintama opened in fifth with $8.81m from its three-day opening weekend. Based on a manga series, it has surpassed 2016's Parastye to become the highest grossing Japanese live-action film.
Disney-Pixar's Cars 3 added $7.97m for $18.41m after 10 days, earning more than the first two Cars films combined and setting a new record for the franchise in China, while Sony's Baby Driver took $5.99m for $15.36m after 10 days.
Two new films almost tied: Hong Kong crime thriller Colour Of The Game, produced by Wong Jing and starring Simon Yam and Jordan Chan, on $3.33m; and romance Once Again, starring Athena Chu, on $3.14m, both from their first four days.
Local animation One Hundred Thousand Bad Jokes 2 rounded up the chart with $2.75m for $18.84m after 17 days.
Now that the summer season is over, the first eight months of this year's Chinese box office has reached $5.74bn, up by approximately 19.6% against the same period last year.
Upcoming titles include Spider-Man: Homecoming and A Silent Voice, which are scheduled for Sep 8.