Harry Potter spin-off scores IMAX best for wizarding franchise in China.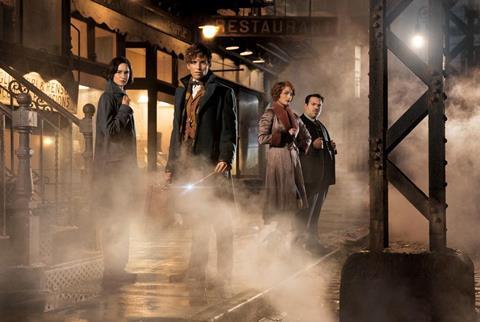 Warner Bros' Fantastic Beasts And Where To Find Them jumped to the top of the Chinese box office in the period of Nov 21 – 27, posting a three-day gross of $41.98m, which included a Potter-best of $5.1m from IMAX.
The Harry Potter spin-off has surpassed the totals of the previous eight Potter films, except Deathly Hallows Part 2.
Local social satire I Am Not Madame Bovary dropped to second place with $18.93m for $49.59m after 10 days. It has added to its list of awards with Feng Xiaogang being named best director at the Golden Horse Awards last weekend.
Moana debuted in third place with $12.61m, scoring the second highest three-day opening for Disney, behind Zootopia. The film is the tenth to be rolled out in the territory by Disney this year, with combined receipts of RMB6.2bn ($932m), setting an annual box office record for a Hollywood studio in China.
Doctor Strange, still steady in its fourth week, held onto the fourth place with $6.36m for $111.49m after 24 days. It has out-grossed Captain America: The Winter Soldier to become the fourth highest-grossing Marvel adaptation film in China.
Hong Kong director Ringo Lam's latest thriller Sky On Fire, starring Daniel Wu and Joseph Chang, opened in fifth with $3.94m; while Japanese animation Detective Conan: The Darkest Nightmare launched in sixth with $3.42m, both from their first three days.
The rest of the top 10 was filled by holdovers: Ang Lee's Billy Lynn's Long Halftime Walk on $3.03m for a 17-day gross of $23.33m; Deepwater Horizon on $2.56m for a 13-day gross of $10.70m; The Warrior's Gate on $0.82m for $3.38m after 10 days; and Japanese animation One Piece Film: Gold on $0.75m for $15.96m after 17 days.
Thanks to Fantastic Beasts And Where To Find Them, last week's box office shot up by approximately 17%, However, November is likely to be another month of negative growth, the sixth month this year and the third consecutive month since September.
Allied will open on Nov 30; followed by Your Name, Super Express, Sword Master and Miss Peregrine's Home For Peculiar Children on Dec 2.