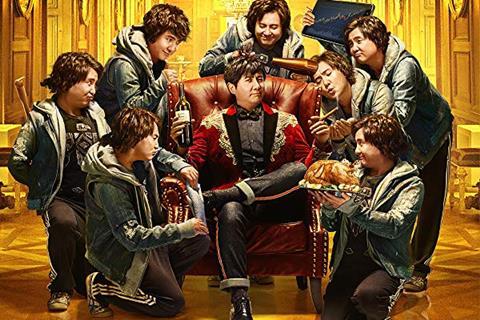 Just halfway through the summer holidays, a second Chinese blockbuster was born. Following the huge success of Dying To Survive, Hello Mr Billionaire raked in $127.3m from its three-day opening weekend in the period of Jul 23-29, not far from the former's four-day debut on $190.1m.
Mainly thanks to these two strong titles, along with Skyscraper, Hidden Man and new opener Detective Dee: The Four Heavenly Kings, the total box office in July reached new heights with $912m, representing a new record for the month of July of all time.
Hello Mr Billionaire reunites directors Yan Fei and Peng Damo with actor Shen Teng, all from 2015 National Day hit Goodbye Mr Loser. It marks the latest comedy produced by theatre company Mahua FunAge whose blockbuster credits include Goodbye Mr Loser and Never Say Die, both starring Shen.
Inspired by Universal's 1984 comedy Brewster's Millions, Hello Mr Billionaire is about a minor league football player who has to spend millions within 30 days before he could inherit a vast fortune. Our Times actress Vivian Sung from Taiwan also stars.
Facing such a strong contender, fantasy martial arts extravaganza Detective Dee: The Four Heavenly Kings came in second with $42m from its first three days. It has already outgrossed the final of 2010's Detective Dee And The Mystery Of The Phantom Flame.
The Four Heavenly Kings is the third installment of Tsui Hark's Detective Dee series, which is dubbed by the local press as the Oriental version of Sherlock Holmes. Mark Chao, Feng Shaofeng, Kenny Lin and Carina Lau return to head the new film, with Ma Sichun joining them in the cast.
Universal's action thriller Skyscraper slid to the third with $36.5m for $83.4m after 10 days. It has surpassed the final gross of Jumanji: Welcome To The Jungle, but it won't match the success of Rampage. All three films from this year star Dwayne "The Rock" Johnson, who has undoubtedly become one of the most popular foreign actors in China.
After topping the charts for three weeks, social comedy drama Dying To Survive dropped to the fourth with $19.9m for $432.5m after 25 days. It is currently the fifth highest grossing film of all time in China and the third highest grossing film of 2018.
The rest of the chart are mostly holdovers: Jiang Wen's Hidden Man on $6.5m for $82m after 17 days; English-language animation Magical Circus on $3m for $6.6m after nine days; local family animation New Happy Dad And Son 3: Adventure In Russia on $1.7m for $21.5m after 24 days; Universal's Jurassic World: Fallen Kingdom on $1m for $241.3m after 45 days from an extended run; family comedy Show Dogs on $0.9m for $2m after 10 days; and Chinese animation Yugo & Lala 4 on $0.7m based on previews only.
A string of non-Chinese titles are due to roll out on Aug 3, including Mama Mia! Here We Go Again, Taxi 5 and Shoplifters.