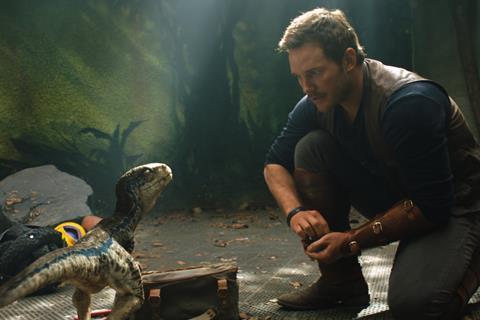 Taking full advantage of the three-day Dragon Boat Festival holidays which began on Saturday, Jurassic World: Fallen Kingdom raided the Chinese box office with $121.7m from its three-day opening weekend.
This represented the fourth highest three-day debut for an imported film and Universal's second highest debut in China, behind The Fate Of The Furious. As its opening was about 21% bigger than that of its predecessor, it is expected to break a new record for the popular franchise.
Opening one week ahead of its North American premiere, Jurassic World: Fallen Kingdom's strong performance gave a much-needed boost to the Chinese box office which had remained weak for several weeks. Its opening day, which accounted for over 90% of the daily box office, delivered the best Friday in China in four weeks.
In second place, local comedy The Way Of The Bug took $10.9m from its first three days. It is the directorial debut of popular comedian Xiao Shenyang who also toplines the cast along with Taiwanese actress Vivian Sung.
After scoring a hat trick for the weekly champion, local fantasy comedy How Long Will I Love U stepped down to third place with $8.5m for $145.4m after 31 days. It remains as the fifth highest grossing local film in 2018.
The Leaker came in fourth with $5.7m from its first three days. The Hong Kong crime thriller stars Francis Ng, Julian Cheung and Charmaine Sheh and is directed by the prolific Herman Yau whose recent hits include Shock Wave and 77 Heartbreaks.
It was followed by Indian comedy drama Toilet – Ek Prem Katha on $5.2m for $14.9m after 10 days; Disney's mega-blockbuster Avengers: Infinity War on $4.6m for $395.4m after 38 days; local comedy Happiness Is Coming on $4.4m for $12m after 10 days; German animation The Seventh Dwarf on $2m from its first two days; Jean-Claude Van Damme's action thriller Black Water on $1.7m for $8.5m after 10 days; and Japanese animation Doraemon The Movie: Nobita's Treasure Island on $1.4m for $34.1m after 17 days.
The Dragon Boat holidays end today (Monday). This week's wide releases include The Incredibles 2 and Lobster Cop, both dated for Jun 22.