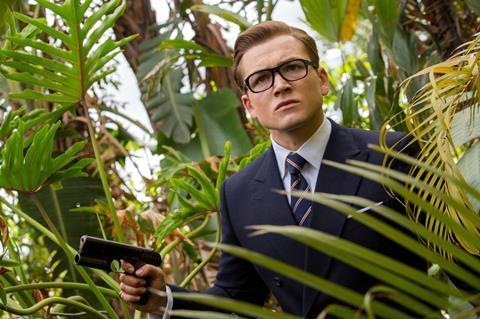 Kingsman: The Golden Circle shot to the top of the Chinese box office in the week of Oct 16-22, ending the three-week reign of Never Say Die. Fox's action sequel delivered $37.4m from its three-day opening weekend, surpassing that of its predecessor Kingsman: The Secret Service.
After topping the daily charts for 20 days, Never Say Die finally fell to second place from Friday since the opening of Kingsman: The Golden Circle. The local body swapping comedy produced by theatre company Mahua FunAge added $27m for $291m after 23 days. It is currently the third highest grossing film overall this year and the fourth highest grossing local film ever, after Wolf Warrior 2, The Mermaid and Monster Hunt.
Thai blockbuster Bad Genius held well and dropped one place to the third with $14.8m for $31m after 10 days. Currently as the No.1 Thai film, the high school thriller has joined a string of foreign films such as Indian wrestling drama Dangal and more recently Spanish thriller The Invisible Guest to reset the box office records for their respective countries in China.
Never Say Die aside, National Day holdovers continued to dominate the charts: City Of Rock on $8.2m for $58.7m after 24 days; Chasing The Dragon on $6.8m for $79m after 23 days; Sky Hunter on $3.5m for $45m after 24 days; and The Foreigner on $3.4m for $75.8m after 23 days.
Local drama Hold Your Hands added $3.1m for $7.9m after 10 days, while animation The Son Of Bigfoot took $2.1m for $4.3m after nine days.
Where Has Time Gone?, the only other new title in the chart, earned $0.6m from its first four days. With the common theme of time, the five-way coproduction is an omnibus film by five directors, including Walter Salles, Alexey Fedorchenko, Madhur Bhandarkar, Jia Zhangke and Jamil XT Qubeka.
More imported titles are scheduled to roll out this week, including Geostorm and Blade Runner 2049, both on Oct 27.