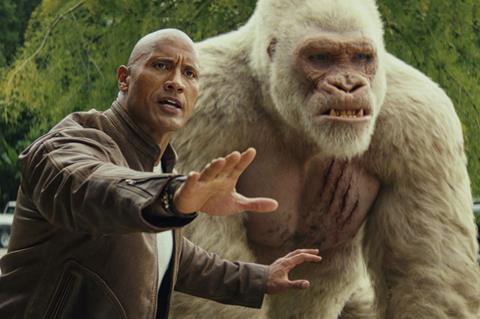 After a strong week with a three-day Qing Ming holidays, the volatile Chinese box office shrunk significantly by about 32% week-on-week in the period of Apr 9-15, making it one of the quietest weeks in 2018.
Warner Bros' action adventure Rampage easily charged to the top of the charts with $58.1m from its three-day opening weekend. This represented about 60% more than its simultaneous release in North America, following in the footsteps of recent US films such as Ready Player One, Pacific Rim: Uprising and Tomb Raider to have China as their biggest market.
Rampage is the second release starring Dwayne "The Rock" Johnson in China this year, after Jumanji: Welcome To The Jungle.
Warner Bros' sci-fi adaptation Ready Player One slid to second place after staying on top for two weeks. It added $30.9m, bringing its 17-day total to $201.5m. It is currently the highest grossing foreign film and the fifth highest grossing film overall this year.
Indian comedy drama Hindi Medium with The Lunchbox actor Irrfan Khan came in third with $8.4m for $30.8m after 12 days. It is currently the fourth highest grossing Indian film ever in China.
Only two new releases entered the top 10. Rampage aside, the other new title is sci-fi thriller Annihilation with Natalie Portman which opened in fourth with $6.4m from its first three days, but it failed to match last year's Arrival which is in a similar genre.
The rest are holdovers: Xin Yukun's local crime thriller Wrath Of Silence on $2.3m for $8.3m after 12 days; Russian animation The Snow Queen 3: Fire And Ice on $2.1m for $9.2m after 11 days; Operation Red Sea on $1.8m for $606.2m after 59 days; local documentary Amazing China on $1.8m for $77.6m after 45 days; Pacific Rim: Uprising on $1.7m for $105.1m after 24 days; and local love comedy Nuts on $0.6m for $5m after 12 days.
Coming up next are Isle Of Dogs, 21 Karat, Dude's Manual, Tomorrow Is Another Day and The Taste Of Rice Flower, all scheduled for Apr 20. But it may be another quiet week at the box office without any new blockbuster titles.