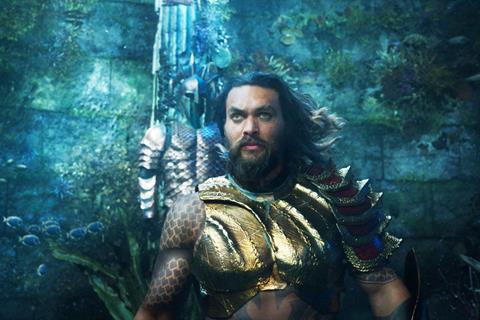 While the week of Dec 10-16 recorded a slight week-on-week drop of 2.4%, the Chinese box office inched closer to the groundbreaking milestone of RMB60bn ($8.72bn) as long as it could deliver another $218m within the next 15 days before the year closes.
Warner Bro's Aquaman maintained a solid momentum in its second week and easily topped again with $93.1m, accounting for more than 70% of the week's total box office. Its 10-day total of $186.2m has made it the fifth biggest foreign film and the 13th overall of 2018. It has also surpassed Justice League to become the biggest DC superhero film in China.
Studio Ghibli's My Neighbour Totoro finally hit Chinese cinemas, 30 years after its original release. The critically acclaimed animation by renowned Japanese director Hayao Miyazaki opened with $12.7m from its three-day debut, almost matching the lifetime total of this year's Cannes Palme d'Or winner Shoplifters which opened in August.
Rao Xiaozhi's low budget dark comedy A Cool Fish remained in third with $5.3m for $111.8m after 31 days. It is now the 10th biggest local film of 2018, surpassing Forever Young, making it probably this year's biggest surprise local hit.
Padman, the ninth Indian film on release in China this year, launched in fourth with $5.1m from its first three days. It has out-grossed the 17-day box office of Amitabh Bachchan-starrer 102 Not Out that opened two weeks ago.
Cao Baoping's coming-of-age drama Einstein And Einstein came in fifth with $3m for $5.8m after 10 days; ahead of Christmas animation The Grinch on $2.8m and thriller Searching on $2.6m, both from their first three days.
Sony's Venom added $1.2m for $266.5m after 38 days from an extended run. It is now the seventh biggest film of 2018 and the 15th biggest film of all time; followed by Disney animation Ralph Breaks The Internet on $0.6m for $38.6m and Rowan Atkinson-starrer Johnny English Strikes Again on $0.4m on $24.5m, both after 24 days.
This week's wide releases include Spider-Man: Into The Spider Verse, Airpocalypse, Master Z: Ip Man Legacy and Kung Fu Monster, all scheduled for Dec 21.