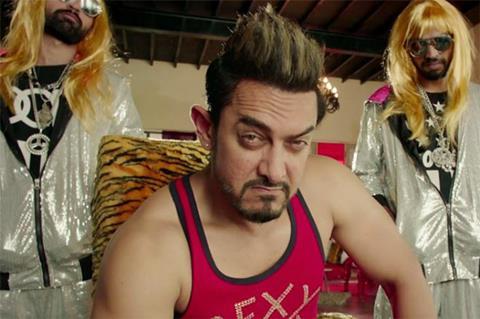 It was a flat week (Feb 5-11) right before Chinese New Year as generally expected. Most of the charts looked quite similar to the week before, with only two small releases added. Chinese New Year blockbusters will make up for the loss next week.
Without any strong contenders, Bollywood musical Secret Superstar scored a hat trick, topping the box office for three straight weeks.
Aamir Khan's latest hit about a young girl who aspires to become a famous singer added $18.7 for $114.7m after 24 days. It has now surpassed Japanese animation Your Name to become the second highest grossing non-Hollywood foreign film ever, only after Dangal.
Local romance drama Till The End Of The World, with Yang Zishan and Mark Chao, climbed one spot to second place with $16.4m for $30m after 11 days, pushing Maze Runner: The Death Cure to the third. Fox's third installment of the young adult adventure franchise earned $8m for a 17-day total of $48.5m.
Zhang Ziyi's Forever Young showed strong staying power in fourth place, taking $7.5m for $121.9m after 31 days; ahead of Hugh Jackman's musical The Greatest Showman which remained in fifth position with $6m for $14m after 11 days.
US slasher film Happy Death Day scared up $5m for $7.8m after 10 days, while Julia Roberts' Wonder on $3.9m for $29.9m after 24 days.
Two animations were back to back: My Little Pony: The Movie on $3.3m for $6.2m after 10 days and Ferdinand on $2.6m for $27.3m after 24 days.
Local romance Miss Puff rounded up the charts with $2.2m from its three-day opening weekend.
The quiet period will soon be over along with the reign of Secret Superstar, when the Chinese New Year battle kicks off officially on Friday. Based on advance ticket sales, the local box office tracking figures point to a potentially record-breaking first day of the lunar new year (Friday), which has already clocked up more than $58m (as of today).
About 46% of those are from Monster Hunt 2, the current box office frontrunner. It is followed by, in order of presales, Detective Chinatown 2, The Monkey King 3, Operation Red Sea, Boonie Bears: The Big Shrink and The Faces Of My Gene.