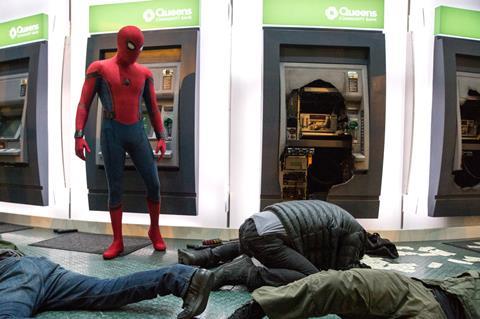 Sony's Spider-Man: Homecoming swung to the top of the Chinese box office in the week of Sep 4-10, pulling in $70.62m from its three-day opening weekend.
Despite a two-month delay after North America, this represented the biggest superhero opening in China this year, ahead of Logan, Wonder Woman and Guardians Of The Galaxy Vol. 2.
It has also surpassed four of the five previous Spider-Man films released in China and will soon outgross The Amazing Spider-Man 2 which took $90m in 2014.
Although Spider-Man: Homecoming delivered a strong opening, last week's overall box office was lackluster, hitting a three-month low since mid-June.
Christopher Nolan's Dunkirk lagged behind in a distant second with $16.92m for $47.38m after 10 days. Warner Bros' WWII action drama opened better than Interstellar, but it could not sustain its momentum and won't be able to match the success of the latter.
With amazing staying power, Wu Jing's Wolf Warriors 2 maintained in third with $8.46m for a 46-day total of $865.23 from an extended run; ahead of Japanese animation A Silent Voice which opened in fourth with $5.06m from its first three days.
Spider-Man: Homecoming and A Silent Voice are the only two new entries in the chart. The rest are all holdovers.
Valerian And The City Of A Thousand Planets dropped to the fifth with $3.70m for $62.46m after 17 days. Luc Besson's sci-fi drama is currently his biggest film in China.
Gintama, which became the highest grossing Japanese live-action film from its opening weekend, added $2.78m for $12.16m after 10 days.
Wilson Yip's Hong Kong action drama Paradox added $2.15m for $79.69m after 25 days, making it the ninth highest grossing local film this year.
Hong Kong crime thriller Colour Of The Game took $1.42m for $4.98m after 11 days; another crime thriller Guilty Of Mind re-entered the chart with $1.20m for $46.29m after 31 days; and Disney-Pixar's animation Cars 3 took $1.08m for $20.62m after 17 days.
War For The Planet Of The Apes is scheduled to open on Sep 15, along with The Brink and Sword Art Online: Ordinal Scale.