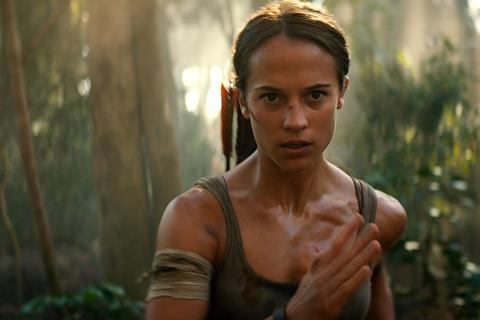 Tomb Raider stole the Chinese box office crown in the week of Mar 12-18, while Operation Red Sea is now China's second biggest film in history.
Warner Bros' reboot starring Alicia Vikander and reviewed here, earned $43.5m over its three-day opening weekend, almost doubling that of its North American debut. China is set to become the biggest market worldwide.
Disney's superhero film Black Panther lost its traction after opening top and dropped to second, adding $30.9m for $101.3m after 10 days.
Dante Lam's latest military action film Operation Red Sea still held well after one full month on release with $24.6m, bringing its 31-day total to $581.6m. This made it the second highest grossing film ever, surpassing The Mermaid and only behind Wolf Warriors 2.
Amazing China, already the highest grossing local documentary, came in third with $16.6m for $54.6m after 17 days; ahead of Oscar best picture The Shape Of Water, which opened with $11.2m from its first three days.
The rest of the top 10 titles were Salman Khan's Indian blockbuster Bajrangi Bhaijaan on $10.3m for $37.9m after 17 days; local action comedy Detective Chinatown 2 on $9.2m for $559.1m after 31 days; Sony's animation Peter Rabbit on $2.8m for $23.9m after 17 days; another Oscar-winning title Three Billboards Outside Ebbing, Missouri on $2.2m for $9.5m after 17 days; and French animation The Big Bad Fox And Other Tales on $1.8m from its first three days.
Coming up next, Pacific Rim: Uprising will open on Mar 23.