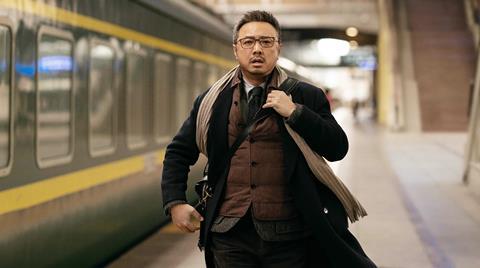 Xu Zheng's action comedy Lost In Russia, which has been streaming online in China since its theatrical release was abruptly cancelled in the coronavirus outbreak, racked up 600 million views in three days according to Chinese tech industry website Techweb.
The film was one of seven that were pulled from theatres on the eve of Chinese New Year, by far mainland China's biggest annual holiday, as part of measures to contain the spread of the virus.
Huanxi Media, the major financier and producer behind Lost In Russia, announced last week that the film would stream for free from January 25 on its own Huanxi Premium platform, as well as streaming services owned by Bytedance, as part of a wider deal with the short video giant.
According to Techweb, the film was streamed more than 600 million times by 180 million households in three days, through Bytedance-owned platforms including Douyin, Toutiao, Xigua Video, Huoshan and Wasu Fresh Time. In Hubei province, the epicentre of the virus outbreak, the film was viewed more than 25 million times.
Indeed, the cancellation of the Chinese New Year releases, and the fact that China has quarantined more than 50 million people, is turning out to be a huge boon for the nation's streaming services. Even those who are free to leave their homes are reluctant to do so, and social media is flooded with videos of people showing how they're spending their time indoors – watching movies, playing games and using blankets and buckets to stage mock lion dances.
Netizens are also expressing their gratitude for the free content with messages such as "Thank you very much, I owe you a movie ticket" and "I can watch and be happy in the days when the city is closed". Many tourist attractions, including Disneyland in Shanghai and Hong Kong, and Beijing's Forbidden City are also closed.
Bytedance is understand to be paying Huanxi Media at least $90m (RMB630m) for the rights to stream a range of Huanxi-produced films and drama series, also including last year's Chinese New Year hit Crazy Alien.
However, the move to premiere Lost In Russia online has not been popular with China's film studios and cinema chains, with some claiming it was destroying China's cinema industry and calling for boycotts of Huanxi-produced films.
A letter addressed to industry regulator China Film Administration stated: "This goes against the payment and revenue model that the movie industry has cultivated over many years; is trampling and intentionally destroying the movie industry and premiere models; and plays a lead role in causing destruction." Signatories to the letter included Wanda Film, Bona Film Group and Henan Oscar Theatre Chain.
At the time of writing, China had recorded 7,801 cases of infection and 170 deaths, while 108 cases and no deaths have been recorded outside of China. Hong Kong, which currently has 10 cases of infection and no deaths, has closed six of its 14 border crossing points with mainland China and halved the number of flights to and from the mainland. Several international airlines, including British Airways, have stopped or reduced flights to China.
Meanwhile, the Chinese government has extended the Chinese New Year holiday, which was supposed to end today (January 30), to February 2, and in some provinces February 9, as part of measures to contain the virus. In Hong Kong, the holiday officially ended on Tuesday (January 28), but many workers, including government employees, have been told to work at home until the end of the week.