Alibaba chief describes tech giant as 'provider of infrastructure' rather than competitor to producers of Chinese films.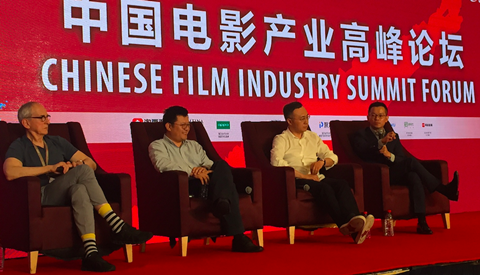 China's studio chiefs discussed the urgent need to develop infrastructure and invest in new talent at the Chinese Film Industry Summit at the Shanghai International Film Festival (SIFF) on Monday.
Following a year of declining box office, the mood was markedly different to last year's SIFF when cracks were starting to show but the industry was still buoyed by record-breaking domestic hits and an influx of capital.
This year, Alibaba Pictures CEO Yu Yongfu kicked off proceedings by describing his company as a 'provider of infrastructure' rather than a competitor to China's traditional production and distribution companies.
"China's content production is still not industrialised – there's a huge gap between China and Hollywood," said Yu, who replaced Zhang Qiang as head of Alibaba's film arm in December 2016.
"If you look at the transport industry, it moved from horses to gas to electric cars, and the road infrastructure had to change to take that into account. Alibaba is trying to change the Chinese film industry with infrastructure investment."
He then explained how his company leveraged big data and its ticketing platforms to propel a relatively low-budget movie – Amblin Entertainment's A Dog's Purpose – from estimated box office of $12m (RMB80m) to $88m (RMB600m) during its Chinese theatrical release. He also outlined Alibaba's efforts to feed new filmmakers into the industry through its 'Project A' programme.
Indeed, Yu seemed to be suggesting that the film arm of the e-commerce behemoth is being repositioned as a service provider, rather than a production entity, although the company is still investing in Chinese and international films.
"What is Alibaba Pictures? We provide infrastructure for content that the entire industry can use. We are not your competitor – that is important," Yu said.
The other studio bosses joked that they could never compete with Alibaba's deep pockets anyway – but everyone agreed that the industry lacks new talent and a diverse range of films made across different budget levels. Since mid-2016, Chinese films have been under-performing in their domestic market, with a few seasonal or innovative exceptions, leading to much soul-searching among studio chiefs.
"We don't have an apprenticeship system – we need educational programmes to develop young filmmakers to make better products. We have to work together to strengthen the weak links," said Huayi Brothers Pictures CEO Ye Ning.
Enlight Media chairman Wang Changtian said another problem is China's over-reliance on box office revenue. "It's not wise to focus on box office – it should only be 30-40% of your total revenues – discovering new revenue streams and profit-sharing is more important," Wang said.
During a later session about the 'spirit of craftsmanship' at SIFF, director-producer Peter Ho-sun Chan (American Dreams In China) said the internet provides an opportunity for the Chinese film industry to diversify. "On the one hand, we're held hostage by data analysis – but we have to be realistic that even developed markets like the US and Japan only have a few cinemas showing arthouse films."
"Theatres are restricted by high operating costs," Chan continued, "but online platforms are more flexible. The internet may serve as a strong channel to help [Chinese] audiences discover different kinds of films."
On the same panel Feng Xiaogang (I Am Not Madame Bovary) said that, as a filmmaker, he is actually quite pleased about the box office downturn. "It's a good development that has phased out some of the outsiders – now there's more room for people with expertise who actually love films."
He also amused the audience by explaining why he enjoys working with new actors in what is still a super-charged and celebrity-obsessed industry. "It's not just about saving money – the big stars sometimes turn up with five bodyguards and that's not a comfortable thing."
Photo (L-R): US producer Michael Shamberg, Yu Yongfu, Wang Changtian, Ye Ning.