Chinese director talks casting non-professional actors in her second feature.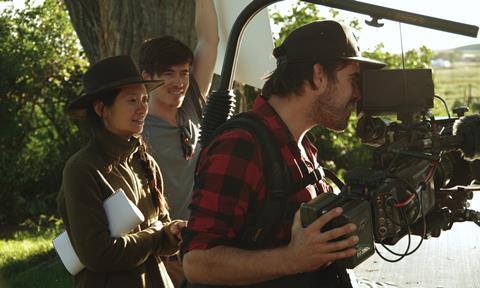 Director Chloe Zhao is in Cannes this year for the second time, after her featue debut Songs My Brothers Taugh Me played in Directors' Fortnight in 2015.
Her latest film, The Rider, premiered in the same strand on Saturday. Protagonist Pictures is handling sales.
The Rider stars a cast of real life cowboys playing fictionalised versions of themselves.
Zhao first encountered her lead, Brady Jandreau, while making her first film. She found herself instrantly drawn to their culture, "They are so inherently American, they represent a way of life in the heartlands that is rapidly disappearing. I respect their refusal to move on and how content they are in this way of life. I've rarely met people who are so authentic and comfortable in their own skin," comments Zhao.
Some time after meeting Jandreau, Zhao was shocked to receive word from his father that he had suffered an accident.
"I was very worried, we were all waiting for news while Brady was in a coma," recalls Zhao, "it's a miracle he wasn't killed and even more so that he's still able to ride horses and do what he loves."
A month later, Zhao went to visit Jandreau, who had recovered from the incident remarkably well. "He was in high spirits, the same old Brady, like nothing had happened," she remembers.
The director had already considered the possibility of casting Brady in one of her films, having been impressed by his authenticity and charisma. The accident and his subsequent recovery presented a new possibility. "When he got hurt, it just made sense to all of us that this was the story to tell. The casting came first before there was even a script," she says.
Zhao rounded out the film's cast largely with non-professional actors, including members of Brady's family. Using non-professional actors came with up and down sides, says Zhao, "It's hard sometimes if I need them to hit a mark, deliver lines perfectly on cue, or just to show up, but when it works it's an incredible moment…something completely honest and real that could never be recreated."
The film was funded by Caviar Content and Zhao's production company Highwayman Films. They received a $50,000 post-production grant from IWC and Tribeca Institute.
For Zhao, returning to Cannes for a second time feels like a vindication of her career to date, "It really is such an honour to return to Directors' Fortnight and I'm very grateful for their support. It's also great because back home in China, I think my parents finally start to believe that I'm doing this for real."
Further down the line, Zhao is intent on continuing to forge her niche, but is open to exploring other types of films too, "I would love to keep making films about characters and communities who are underrepresented and on the edge of society. I also was raised on Japanese manga, anime and great Hollywood sci-fi and fantasy films. I would love to explore those genres as well."
When quizzed about the current state of independent film production – and the continued emergence of SVoD players such as Netflix and Amazon – Zhao has a positive outlook, "During my last year of film school in 2009, there was certainly a sense of panic for the future of independent film. Things has gotten much better and I do think these new players are part of that change."
Were one of those companies to express interest in her next projects, would you she work with them? "I would love to work with them. I think it's healthy for filmmakers to adopt and stay relevant," she comments.