Two-time Oscar winner Christoph Waltz had given up on the "fantasy" of a Hollywood career before getting the call to audition for Inglourious Basterds.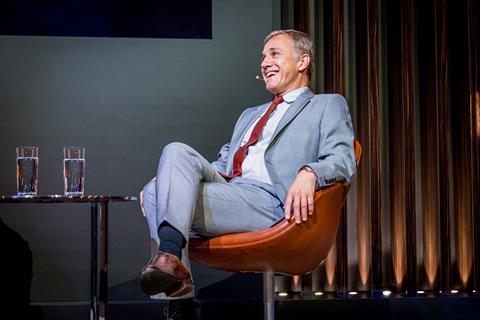 German-Austrian actor Waltz told industry during a Zurich Summit talk that the "fantasy" of a Hollywood film career had "evaporated" long before he met Quentin Tarantino.
The actor, who had a prolific theatre and TV career in Germany-speaking Europe had not made a film in three years prior to 2009 hit Inglourious Basterds and had not made an English-language film in five years.
"When it did happen, it was really out of leftfield," said the actor, who spoke of his previous disappointments when auditioning for US productions.
"I went to a few castings on US films in my career and it was very frustrating because you could smell it was about the production looking for soft-money in Europe," said the actor.
"So when my agent called saying Tarantino wants you to audition, I said 'No, no, no. I know what will happen. I'll go, they'll get the money and then they'll cast a US actor instead.'"
Waltz would go on to win Best Supporting Actor Oscars for his performances in Inglourious Basterds and in Tarantino's 2012 western Django Unchained.
However, despite his career trajectory, the actor semi-joked that "discouragement" would be his best advice to aspiring actors.
Waltz will next appear as villain Franz Oberhauser in upcoming Bond Spectre but told the audience his next ambition is to direct.
"I have directed once in the theatre, one opera and one movie but many years apart," said Waltz, who will star in and direct US feature drama The Worst Marriage in Georgetown, which is based on the true crime story of the murder of Viola Drath.
With reference to the title of a book by John Boorman, Waltz described the filmmaking process as "money into light":
"That's what a movie is. The money aspect can never be disregarded. Despite all the exuberance and marketing there's no guarantee that financiers will see their money back not to mention a profit and that can't be overlooked. Moviemaking is a balancing act between money and light."
The Zurich Summit was organised by conference producer Winston Baker.