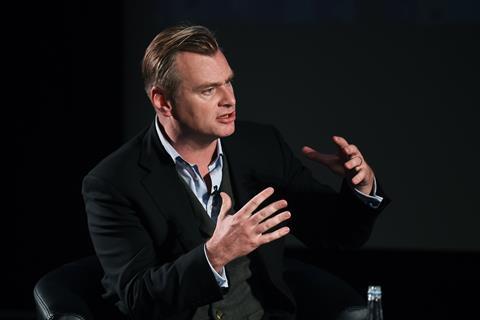 Christopher Nolan's next project about the work of Robert J Oppenheimer, the so-called father of the atomic bomb, has landed at Universal, marking a rare occasion in the last 20 years that Warner Bros will not release a feature by the British filmmaker.
The film will reportedly start production in early 2022 for a late 2023 or 2024 release. It is understood the $100m project chronicles Oppenheimer's work on the top-secret Manhattan Project that created the atomic bombs and brought the Second World War to an abrupt and devastating end in 1945. Cillian Murphy has been mentioned but no casting has been confirmed at time of writing.
Screen has confirmed Universal will distribute the film worldwide in what is a coup for Universal Filmed Entertainment Group chairman Donna Langley and her executive suite.
Nolan had been in talks with several studios in recent weeks as he shopped the project with his agent. It is understood Universal and Sony made the most appealing cases while there were brief talks with Warner Bros.
The filmmaker does not have a first-look deal with Warner Bros, which has handled most of his films since Insomnia in 2002 including the Dark Knight trilogy and Dunkirk in a highly lucrative partnership. Warner Bros released Interstellar internationally and Paramount distributed in North America, and Disney distributed The Prestige.
Nolan, a highly persuasive advocate of the big screen experience and one of the few directors in Hollywood who commands first-dollar gross participation on theatrical releases, got his wish last September when Warner Bros released his sci-fi thriller Tenet exclusively in cinemas. The studio had serious reservations about unleashing a $200m tentpole during the pandemic at a time when most cinemas in the US and Canada remained closed. However it went ahead and the film grossed a disappointing $363m worldwide, $305m internationally and $58m in North America.
After the release WarnerMedia announced its day-and-date theatrical and HBO Max release strategy for the 2021 Warner Bros slate, drawing the ire of Nolan and Denis Villeneuve, whose sci-fi adaptation Dune premiered in Venice and opens on October 22 as the first instalment in a two-parter. Industry observers believe Warner Bros will green-light the second part.
Warner Bros cut "make-good" deals with leading filmmakers and stars after Hollywood reacted with outrage to the 2021 strategy and WarnerMeda has said Warner Bros films in 2022 will get a 45-day exclusive theatrical window before moving to HBO Max. Nonetheless it is understood Nolan's relations remain strained with the studio and in particular WarnerMedia CEO Jason Kilar, who many believe will exit the fold next year when the merger with Discovery closes.
Universal's deals with exhibitors allow it to keep films in cinemas as long as the studio sees fit and extend the minimum from 17 days to 30 on films that open on more than $50m. It is understood Nolan demanded a minimum exclusive theatrical run of 100 days, and insisted no other Universal release (including films by Illumination) opens three weeks either side of the release. That was part of his deal at Warner Bros. He is also said to have demanded a $100m marketing spend on the Oppenheimer project. Deadline Hollywood first reported the news about the Nolan-Universal deal.