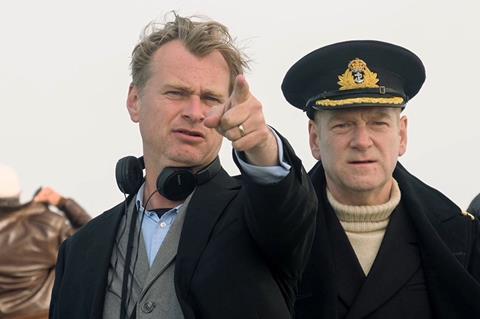 Christopher Nolan's Dunkirk has been one of the resounding cinematic successes of 2017.
The Second World War drama has grossed $530m globally, scored widespread critical acclaim and is considered a leading Oscar contender, including in the best picture and best director categories.
Nolan's stirring film – his tenth as a director – has had many cheerleaders, even in quarters the filmmaker would probably rather it didn't.
Released in the wake of the UK's decision to leave the European Union, right-wing Brexit apostle Nigel Farage became an unexpected champion for the film, prompting headlines and column inches linking the film and the evacuation with the Brexit campaign.
However, in a recent interview with Screen, Nolan has firmly disassociated the film from contemporary political agendas.
"Dunkirk is an extraordinary story and it's always served as something of a Rorschach test: different people interpret it in different ways," he said.
But, he cautioned: "Interpreting the events of 1940 through a modern lens is frankly disrespectful to the people who lived through the real-life events. This is something that happened in 1940, not something that's happening in 2017. Brexit happened while we were shooting and was as much a surprise to us as to everybody else."
"As a filmmaker, you can't control the world that your film goes out into," he continued. "What you can do is be true to the real-life events and what they meant to the people who were involved in them. Dunkirk is a story about community. It's a story about people coming together in the face of evil. And I think different political groups taking that to mean different things means they are necessarily ignoring certain elements of the film."
Tackling military conflict generally leaves filmmakers open to controversy.
The response of some French critics, who regarded Nolan's feature as portraying French soldiers in an unsympathetic light and downplaying their country's role at Dunkirk, probably fed into the unwanted narrative of Dunkirk as a nationalistic or 'Brexit' movie.
Nolan, who has maintained that he wanted to frame his story as an "intimate epic" rather than an all-encompassing panorama, is keen to set the record straight here too.
"In truth, the whole massive effort behind the evacuation, including tens of thousands of French troops, is why we have [Kenneth] Branagh's character at the end say he's 'staying for the French'. That was of vital importance to Churchill's idea of standing with Europe against the Nazis and about European unity more than anything. To have a specific interpretation, you have to be ignoring certain elements of the film."
Read the full interview with Christopher Nolan next week in print and online.