Paramount's The SpongeBob Movie: Sponge Out of Water lands with $3.3m (£2.25m), including previews; Dior and I posts Dogwoof's second-best ever UK opening with $121,000 (£81,848).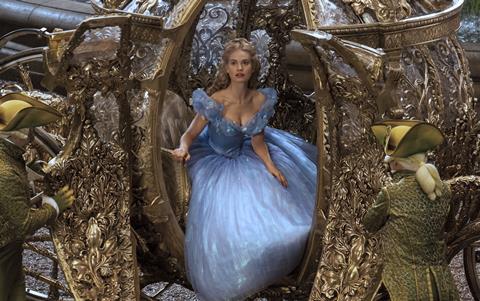 DISNEY
Replicating the chart-topping success of Maleficent last year, Disney's Cinderella posted a $5.6m (£3.8m) debut from its 554 sites.
Cinderella's debut is just ahead of the $5.5m (£3.7m) start from 530 sites of Oz the Great and Powerful and while it looks some way behind Maleficent's $9.8m (£6.6m) from 486 sites, that did include $4.2m (£2.8m) in previews meaning the Fri-Sun tallies of Cinderella and Maleficent are almost level.
Oz and Maleficent took $22.8m (£15.4m) and $30.3m (£20.4m), respectively, and Cinderella should be looking to at least surpass the former.
Also for Disney, Big Hero 6 has now taken $28.8m (£19.44m).
FOX
Last week's champion Home fell a slim 22% (excluding previews) on its way to a $3.9m (£2.6m) second weekend.
Fox's animation is already up to an impressive $13.8m (£9.3m) and given that it'll now start to enjoy decent midweek returns, you wouldn't yet rule out a push for £20m which would be a terrific result for an original property.
Also for Fox, The Second Best Exotic Marigold Hotel has now checked into $21.5m (£14.5m) in the UK following a $638,000 (£429,570) fifth weekend and, barring a second wind, won't match its predecessor's $30.3m (£20.4m) result despite a stronger start.
Kingsman: The Secret Service has amassed $24.1m (£16.2m) after nine weeks in play.
PARAMOUNT
Having banked $1m (£680,000) last weekend from previews, Paramount's The SpongeBob Movie: Sponge Out of Water splashed into UK cinemas with an overall debut of $3.3m (£2.25m) from its 483 sites.
Its Fri-Sun tally of $2.3m (£1.58m) compares favourably to the $1.9m (£1.25m) bow from 440 sites of The SpongeBob SquarePants Movie, which went on to make $8.3m (£5.6m) in the UK.
The upcoming Easter school holidays and lack of family competition openers should see the sequel comfortably pass that tally in the coming weeks.
WARNER BROS
Get Hard got off to a strong start in the UK with a $2.13m (£1.43m) opening from its 325 sites to chart fourth.
Warner Bros' comedy enjoyed a healthy $6,546 (£4,412) site average, setting it up to be an attractive counter-programming alternative to a family-heavy market over the next two weeks.
It also suggests that Kevin Hart is becoming an increasingly bankable lead in the UK with Get Hard improving on the $1.5m (£990,445) debut from 384 sites of The Wedding Ringer last month, and being on a par with Ride Along's $2.11m (£1.42m) start from 382 sites last year.
Also for Warner Bros, Focus hit the £7m mark as a $433,000 (£292,000) fifth weekend saw it reach $10.5m (£7.09m), while Run All Night is running out of gas after taking $188,000 (£127,000) for $3m (£2.04m) after three weeks in play.
EONE
Falling almost 50% (excluding previews) in its second weekend, The Divergent Series: Insurgent rounded off this week's top five with $1.9m (£1.3m).
eOne's sequel is now up to $7.6m (£5.15m) after 11 days in play and it will shortly overtake Divergent's $9.8m (£6.6m), potentially by the end of next weekend.
Also for eOne, Suite Francaise added $220,000 (£148,383) for $2.6m (£1.8m) after three weeks in play, while The Signal posted a $3,900 (£2,649) debut from six sites ahead of playing nationwide at Picturehouse cinemas tomorrow [March 31].
UNIVERSAL
Seventh Son posted an uninspiring $607,000 (£410,627) from its 388 sites through Universal. The fantasy adventure is likely to struggle to stick around for long, given the increasingly busy marketplace and poor reviews.
Also for Universal, Fifty Shades of Grey has reached $51.2m (£34.7m) after seven weeks in play.
CURZON FILM WORLD
Oscar-nominated Wild Tales is off to a superb start in the UK with a $268,000 (£180,751) debut, including just under $15,000 (£10,000) in previews, from its 50 sites through Curzon Film World, with one site still to report.
The result is all the more notable given it was a day-and-date VoD release and therefore didn't play the circuits.
Also for Curzon Film World, Still Alice crossed the £2m mark as a third weekend of $251,000 (£169,108) lifted its running tally to $3.1m (£2.1m).
STUDIOCANAL
Falling over 50% in its second weekend, StudioCanal's The Gunman took a non-final $183,000 (£123,950) for a ten-day tally of $1.2m (£804,503).
Also for StudioCanal, The Tale of Princess Kaguya added $79,000 (£53,375) from its 46 sites for $261,000 (£176,504), as Shaun the Sheep Movie reached $19.2m (£12.98m).
DOGWOOF
Also enjoying a strong start to its UK run was Dogwoof's Dior and I with a confirmed $121,000 (£81,848) bow from its 34 sites.
It's one of the best openings for the distributor since The Spirit of '45's $111,000 (£75,146) debut from 43 sites in March 2013, and marks the second biggest-ever for Dogwoof behind The Age of Stupid's $151,000 (£101,752) from 20 sites back in March 2009, according to figures from Rentrak.
SODA PICTURES
Michael Winterbottom's The Face of an Angel recorded a UK bow of $55,000 (£37,000), including previews, from its 37 sites through Soda Pictures. That ranks as one of Winterbottom's lowest-ever openings, but it's worth noting that the film also received one of his narrowest releases.
ARROW FILMS
Playing in 98 sites in its second weekend on a mix of split shows and with some days with no shows, Arrow Films' The Voices added a non-final $41,000 (£27,434) for $330,000 (£222,568) to date.
LIONSGATE
Unsurprisingly falling heavily following its soft opening, Lionsgate's Wild Card could only gross $35,000 (£23,600) in its second weekend for $433,000 (£292,112).
METRODOME
Mommy posted a $29,000 (£19,280) second weekend from its 24 sites through Metrodome to cross the £100k mark to stand at $156,000 (£105,429).
AXIOM FILMS
Released in five sites (four on split shows) through Axiom Films, Blind grossed $5,200 (£3,520) on its UK bow.
UPCOMING RELEASES
This week sees saturation releases for Universal's Fast & Furious 7 and Icon's While We're Young.
eOne's The Water Diviner and BFI's re-release of Blade Runner: The Final Cut both receive wide releases, while Soda Pictures' Altman and Koch Media's The Dark Horse are among the films receiving a limited release.