The actor's Elysium Bandini Studios produced the projects in association with Los Angeles film schools.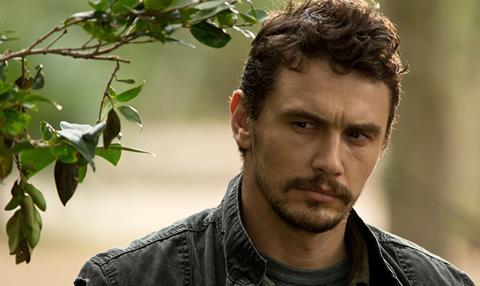 Cinedigm Corp. has acquired all North American rights to The Heyday Of The Insensitive Bastards and Don Quixote: The Ingenious Gentleman Of La Mancha, produced by James Franco, Jennifer Howell and Vince Jolivette's Elysium Bandini Studios.
The Heyday Of The Insensitive Bastards was produced in conjunction with UCLA's School of Theater, Film and Television and stars Franco, Tyler Labine, Kate Mara, Jim Parrack, Natalie Portman, Rico Rodriguez, Abigail Spencer, Amber Tamblyn, Thomas Mann and Kristen Wiig.
The film has a unique structure comprised of a series of vignettes that run the whole gamut of emotions as the film delves into universal themes of memory, longing and loss.
Don Quixote: The Ingenious Gentleman Of La Mancha was produced in conjunction with USC's School of Cinematic Arts and was written and directed by students in Franco's USC graduate filmmaking class.
The film is based on Cervantes's epic novel and chronicles the journey of Don Quixote and his loyal squire, Sancho Panza, as they go on adventures and attempt to right the wrongs of the world.
Horatio Sanz stars as Sancho Panza, along with Carmen Argenziano as the titular Spanish knight. Franco also stars with Luis Guzman, Vera Cherny and Reinaldo Zavarce.
"The creative and impactful mission of The Art Of Elysium resonates strongly with Cinedigm. We are proud to support these philanthropic efforts and encourage young filmmakers," Cinedigm's executive director of acquisitions Melody Fowler said.
"Cinedigm has proven itself a successful and collaborative home for independent film," Rabbit Bandini Productions partner and co-owner Jolivette said. "Given their capabilities and wide distribution reach, we expect Cinedigm will make a strong partner for us on the films."
Elysium Bandini Studios is a philanthropic joint venture between Howell's The Art Of Elysium charity and Franco and Jolivette's Rabbit Bandini Productions to support the film projects of students and emerging professionals.

All proceeds go entirely to Los Angeles-based The Art Of Elysium, a non-profit that provides programmes for hospitalised youth, special needs education centers, homeless shelters, along with elder care homes and hospice care facilities.
Michael Lurie and Jeffrey Giles of Automatic Entertainment brokered both deals on behalf of Elysium Bandini Studios with Fowler.