Seven films in early development have been selected for the co-pro market.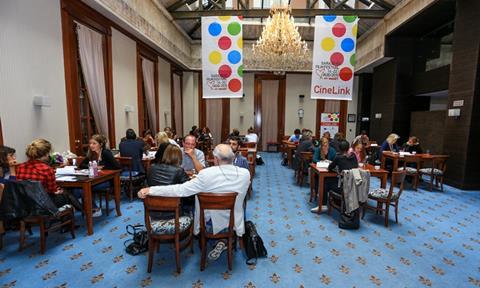 Scroll down for full details of the projects
CineLink, the industry section of Sarajevo Film Festival (August 11-18), has revealed the first seven projects that will travel to this year's co-production market.
The films are all in early stages of development and will participate in a preparatory workshop with the CineLink team ahead of being involved in the festival's Industry Days, which run August 12-17 this year.
All seven of the projects come from the south-eastern European region and will form part of a 35-strong CineLink selection come August.
The initial crop include new films from the directors of Sundance 2014 premiere Viktoria, Locarno 2016 premiere All The Cities Of The North, and the first feature from the star of Dogtooth.
Jovan Marjanovic, head of industry at Sarajevo Film Festival commented: "Come August we will have discovered over 35 projects of different film forms and in different stages of development and production, but it is always this first batch of projects to be selected that fall into the real "discovery" category.
"We look forward to spending time with them and helping nurture and fine tune their ideas before presenting their work to potential partners at the CineLink Coproduction Market."
Amra Baksic Camo, head of CineLink added: "The selection is quite diverse in terms of topics and points of view, but all are authentic, passionate, witty, but thought provoking works from some of the most exciting emerging talent from our region."
CineLink projects 2017:
Loglines provided by Sarajevo Film Festival
AFRICA
Director: Maya Vitkova
Writer: Maya Vitkova
Producer: Maya Vitkova
Production company: Viktoria Films
Co-producer: Anca Puiu, Mandragora (Romania)
Bulgaria, Romania
After a very successful film VIKTORIA (premiered at Sundance 2014) which dealt with Bulgarian political past, Maya Vitkova is developing a second feature film AFRICA, focusing on a contemporary family story.
CAT IN THE WALL
Director: Mina Mileva, Vesela Kazakova
Writer: Mina Mileva
Producer: Mina Mileva, Vesela Kazakova
Production company: Activist38
Bulgaria
Mina Mileva and Vesela Kazakova are director-producer duo known by two successful and controversial documentaries UNCLE TONY (2014) and A BEAST IS STILL ALIVE (2016) dealing with recent Bulgarian history. Their first feature film CAT IN THE WALL tackles the relationship between migrants and locals in London.
DESIRE LINES
Director: Dane Komljen
Writer: Dane Komljen
Producer: Nataša Damnjanović, Vladimir Vidić
Production company: Dart Film
Serbia / Bosnia and Herzegovina
DESIRE LINES is a second feature film of Dane Komljen who is internationally known for his hybrid style and his short films were screened and won awards at Cannes, Locarno, Rotterdam, and FID Marseille and his first feature ALL THE CITIES OF THE NORTH premiered in Locarno 2016.
THE DRAGON HAS COME
Director: Christos Passalis
Writer: Christos Passalis, Eleni Vergeti
Producer: Maria Drandaki
Production company: Homemade Films
Greece
THE DRAGON HAS COME is a first feature film by a Greek actor and theater director Christos Passalis know by his performance in DOGTOOTH.
THE HIVE
Director: Eylem Kaftan
Writer: Eylem Kaftan
Producer: Said Nur Akkus
Production company: Pero Film
Co-producer: Mehmet Aktas, Janna Heine mitosfilm (Germany)
Turkey, Germany
THE HIVE is the feature fiction directorial debut about female urban farmer fulfilling her mother's last wish dedicated to produce honey but her path is crossed by a bear family. This project is directed by Eylem Kaftan who has directed several documentary feature films.
HOLY EMY
Director: Araceli Lemos
Writer(s): Araceli Lemos, Gulia Caruso
Producer(s): Elina Psykou, Giulia Caruso, Konstantinos Vassilaros
Production company: StudioBauhaus
Greece
Araceli Lemos is a Greek director and editor. HOLY EMY is her feature directorial debut and it is an intimate character driven drama set in Filipino community in Greece.
TAKE ME HOME
Director: Balazs Simonyi
Writer: Balazs Simonyi
Producer: Balazs Simonyi, Laszlo Jozsa, Monika Mecs
Production company: Speak Easy Project, M&M Film
Hungary
TAKE ME HOME is the feature directorial debut, a hybrid between documentary and fiction film by Hungarian documentary filmmaker Balazs Simonyi. The film deals with child euthanasia and its taboo.