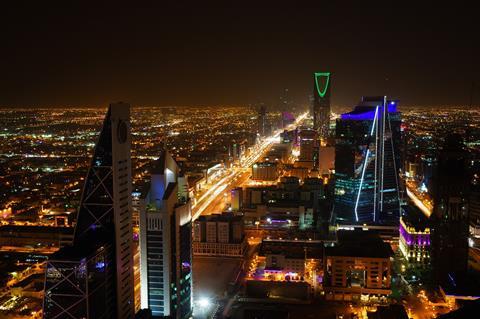 Saudi Arabia's announcement earlier this week that it will lift a 35-year ban on public cinemas this spring generated news headlines around the world.
Behind the scenes, it is a move the Gulf state has been working towards for some time as the country implements Crown Prince Mohammad bin Salman's Saudi 2030 vision strategy, aimed at diversifying Saudi Arabia's economy away from it dependency on oil.
The leisure and entertainment sector is a key pole of the plan announced in 2016 and savvy regional players have been betting on a lifting of the ban, applied amid the Islamic religious revival of the 1980s, for some months.
A number of theatres have even already been built in shopping malls in the capital of Riyadh and other major cities such as Jeddah and are now poised to open once the ban is lifted in March, 2018.
"They have some sort of facade over them so it looks like it's just another store coming soon. When you take that down, you've got popcorn, all that stuff. It's all there already, everything," says Saudi-based US producer Todd Nims.
"The smart people have factored this in. All these malls that have been going up had a space in place. They're building like crazy and there's lots more on the way.
Exhibitors lining-up
Nims is not at liberty to divulge the companies behind cinemas but several local and international exhibition chains as well as retail conglomerates have announced publicly that they are considering entering the new market.
Saudi Arabia's cultural ministry said the country plans to open 300 cinemas with 2,000 screens by 2030, which would make a projected $24bn (90 billion riyals) contribution to the economy and create 30,000 permanent jobs in that period.
Companies lining up for a piece of the pie include Wanda Group-owned, US-based ACM Entertainment, the UK's Vue International, Dubai-based retail and leisure sector conglomerate Majid Al Futtaim, which owns the regional VOX Cinema chain, and Riyadh-based retail giant Arabian Centres, which also created the KidZania Edutainment format.
Vue International, which was the only international exhibitor invited to Saudi Arabia's Future Investment Initiative conference in November, told Screen International it was actively involved in talks.
"We have since participated in a number of follow up meetings and our conversations on building and operating state-of-the-art multiplex cinemas in the region continue," the company said in a statement.
Majid Al Futtaim, which already runs a dozen Carrefour hypermarkets in Saudi Arabia and is currently in the process of building two landmark shopping malls in Riyadh in the vein of its Malls of the Emirates in Dubai, welcomed the move.
"These are exciting times and we will work with the Kingdom to extend the footprint of our VOX Cinemas brand to Saudi Arabia in the months ahead," the group said in a statement.
IMAX which already has one screen at the Sultan Bin Abdulaziz Science & Technology Centre in Al Khobar, which mainly plays documentaries, is also set to expand its presence in the country.
"In the short to medium term we could have 15-20 IMAX theatres in Saudi Arabia in the next three years," CEO Richard Gelfond told Screen International.
Programming, segregation
There has been no detail on what sort of feature content will be permitted to play on big screens in the kingdom, or whether female and male spectators will be segregated.
Most expect programming to be in line with that of cinemas in neighbouring Bahrain and the UAE, which is dominated by Hollywood productions, Bollywood titles, to cater to Asian expat communities, with some Arab, mainly Egyptian, and world cinema titles showing too.
"You won't see any nudity or any graphic violence, at least not in the beginning," said Nims.
It is unclear whether audiences will be segregated. No precedent appears to have been set yet. A special screening in October of three short films at the King Fahd Cultural Centre in Riyadh was segregated while one-off screenings at the King Abdulaziz Center for World Culture in the south-eastern city of Dhahran have been mixed.
"That's not really clear yet," comments Nims.
Born in Saudi Arabia to expat parents working in the oil industry, Nims spent his childhood in the country, returning in 2007 after college and a stint working in Hollywood. He is a rare Western eye-witness to the changes afoot in its fledgling cinema scene.
He worked first in the country's bubbling social media scene, collaborating with platforms like the popular Telfaz11, which launched the careers of Saudi stars such as Riyadh-born director Hisham Fageeh of No Woman, No Drive viral video fame, whose film Barakah Meets Barakah was Saudi Arabia's Foreign Language submission in 2016.
More recently, he was a programmer and producer for the cinema arm of the King Abdulaziz Center for World Culture, also known as Ithra, which translates roughly as enlightenment.
The state of the art cultural centre in the south-eastern city of Dhahran - the administrative centre of the Saudi oil industry - houses an auditorium, library, exhibition hall, museum, archive and cinema. It opened in 2016.
Until now, it has been one of the few venues in Saudi Arabia screening films to audiences within the framework of its cultural programme.
Potential opening titles
As part of his role at the centre, Nims produced Australian director Andrew Lancaster's upcoming Ithra-backed feature Joud.
A meditation on the cycle of life in reverse, from death to life, the film was shot in various locations across Saudi Arabia and inspired by a form of pre-Islamic poetry called the Qasida. UK composer Jerry Lane, who wrote the score for Theeb, wrote the music of the work.
The film is expected to be one of the first films to screen in Saudi Arabia as the ban is lifted and is also destined for international festival slots in early 2018.
Nims left his role seven months ago to focus on the production of Spanish director Andrés Vincente Gómez's Born in King, capturing an episode in the life of Saudi Arabia's late legendary leader King Faisal bin Abdulaziz when he was sent on a diplomatic mission to London at the age of 14-years-old in 1919.
Completion of the €20m private equity funded production, involving Saudi investors alongside other international backers, is due to coincide with the re-opening of the cinemas.
"We were in process of shooting the film when we were approached and informed that there was a strong chance the cinemas were going to open," says Nims. "It's a great coincidence but there is a high likelihood that the film will be part of opening of the cinemas."
Fostering local talent
Alongside laying the ground work for the re-opening of public cinemas, Saudi Arabia has also been quietly nurturing a local film-making scene over the last 18 months.
Both Joud and Birth of A King, which shot for three weeks in Saudi Arabia before heading to the UK, involved Saudi crew and cast.
The country has also set-up a number of initiatives to support local directors such as the Saudi Films Days, which supports the production and promotion of local shorts and features.
The first edition in 2016 supported the production of ten short films, seven of which were then showcased at a VIP event at Paramount Studios as well as a public screening at a hotel in Los Angeles.
The country has also awarded scholarship grants to a number of young Saudi film-makers to study at film in schools outside the country.
Saudi filmmakers are increasingly prominent on the regional festival scene.
This year's Gulf short film competition at the Dubai International Film Festival, for example, featured two Saudi works: Hajar Al Naim's US-shot drama Detained, starring Palestinian actress Maria Zreik as a young Syrian woman who is interrogated by US Homeland security on her arrival in the country, and Hanna Saleh Alfassi's coming-of-age drama Lollipop.
Eager audience
Questions may remain on how Saudi Arabia's new exhibition scene will grow and be legislated but Nims says one certainty is that the new theatres will be packed.
"The Saudis are some of the most avid movie watchers I know. They consume movies like you've never seen. It's crazy. It's partly because they don't have many other forms of entertainment so they binge watch," he says.
"I know guys who will drive from places like Riyadh to Bahrain just to see a film. Saudis probably make up 90% of the audience there. It makes sense to bring those revenues to Saudi Arabia. I think all these new theatres are going to be packed, at least for the next 10 to 15 years."
Tom Grater contributed to this report