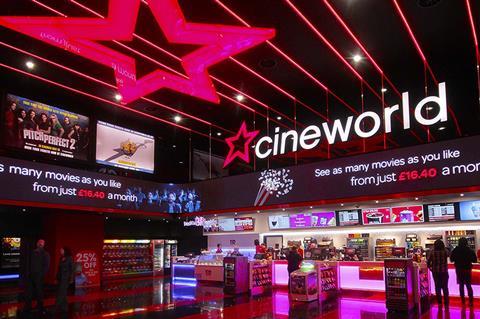 Troubled UK-based exhibition giant Cineworld has said it expects to emerge from Chapter 11 bankruptcy protection in July.
The group added that its proposed restructuring plan now has the support of 99% of the lenders holding its "legacy facilities" and holders of "at least 69% of the outstanding indebtedness under the debtor-in-possession facility."
Cineworld – the world's second biggest exhibitor, with more than 9,000 screens in 10 countries, including the Regal chain in the US and Picturehouse in the UK – filed for Chapter 11 bankruptcy in the US last September. A hearing over final court approval for the company's proposed restructuring is set for June 12.
Cineworld also reported that its amended "restructuring support agreement" and "backstop commitment agreement" were approved by the bankruptcy court earlier this month, marking what the company described as "another positive step" towards implementing the restructuring.
The company's statement said that during the restructuring process, "Cineworld continues to operate its global business and cinemas as usual without interruption. Cineworld and its brands around the world - including Regal, Cinema City, Picturehouse and Planet - are continuing to welcome customers to cinemas as usual."
In April, Cineworld said it dropped plans to sell its cinemas in the US, the UK, Ireland, Eastern Europe and Israel.
The company's operations in Poland, the Czech Republic, Slovakia, Hungary, Bulgaria, Romania and Israel are not under bankruptcy protection.