French comedies generated 326.5 million entries internationally from 1994 to 2014.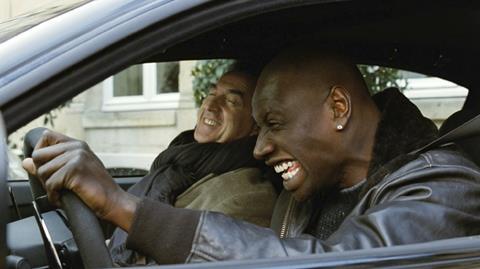 Comedy is France's most successful film export, according to new research by UniFrance.
According to the report, spanning 1994 to 2014, French comedies generated 326.5 million international admissions and accounted for 35% of France's global box office, led by Intouchables, Amelie and Astérix & Obélix Vs. Caesar.
In total, 1,177 French comedies were released internationally during the period, representing 71.5% of the 1,647 comedies released in France in the same period. The genre was also a market leader at home where it generated 813.4 million entries, for a 66.5% share of the domestic market.
In a sign of its power as a film franchise, four adaptations of René Goscinny and Albert Uderzo's Astérix and Obelix comic books featured in the global top 20 which also included Serial (Bad Weddings) and classics such as Le Placard and Le Diner De Cons.
Top markets for French comedies were Germany, where they generated the 47 million entries over the decade, Belgium (31.6m), Spain (31.6m), US (29m) and Italy (24m). French comedy even drew spectators in the UK where they generated 7.4 million admissions over the period.
More than 50% of the international box office for French comedies was generated in Western European territories which, commented the report, was undoubtedly linked to the fact their populations shared similar values and humour.
French drama
Dramas took a 10% share of the global box office, led by A Very Long Engagement (4.6m), Amour (3.7m) and The Diving Bell And The Butterfly (2.4m).
Other top-performing titles included The Class (2.3m), Adele: Chapters 1 &2 (1.7m) and Irréversible (1.6m).
A total of 478 dramas were exported, drawing 96.8 million spectators, against 138 million admissions for the 750 local dramas released in France in the same period,
France's most successful export after comedies, however, was thrillers, most of which were English-language.
Productions by Luc Besson's EuropaCorp dominated the top 20 chart for thrillers topped by Taken 2 with 47 million spectators, Taken (31m) and Transporter 2 (17m).
The only French-language thriller that made it into the top 10 was Christopher Gans' Brotherhood Of The Wolf with 7.3 million global admissions.
A total of 145 thrillers drew 234.3 million spectators internationally from 1994 to 2014, against 88.5 million entries for 187 French thrillers in France in the same period.
The thriller was among six categories in which French productions did better internationally that at home alongside animation, biopic, documentary, historical films, fantasy/sci-fi pictures and thrillers.
Top five French films by genre (1994-2014)
Comedy
(35% of France's 10-year box office)
Intouchables (31m)
Amelie (22m)
Astérix & Obélix vs. Caesar (15.2m)
The Artist (13.6m)
Astérix & Obélix: Mission Cleopatre (10.01m)
Thriller (25.1% of France's 10-year global box office)
Taken 2 (47m)
Taken (31m)
Transporter 3 (17m)
Transporter 2 (12.7m)
Kiss of the Dragon (11.9m)
Fantasy/Science Fiction/Horror
(12.9% of 10-year global box office)
Lucy (53m)
The Fifth Element (34m)
Babylon A.D. (10.5m)
The Ninth Gate (9.1m)
Beauty and the Beast (4.4m)
Drama
(10% of France's 10-year global box office)
A Very Long Engagement (4.6)
Amour (3.7m),
The Diving Bell and The Butterfly (2.4m)
Sarah's Keys (2.4m)
Of Gods and Men (2.3m)
Documentary
(4.5% of France's 10-year global box office)
March of the Penguins (19m)
Oceans (7.7m)
Winged Migration (4.6m)
To Be and To Have (1.3m)
Bébés (1.2m)
Animation
(4.2% of France's 10-year global box office)
Arthur and the Invisibles (10.2m)
Igor (4.2m)
Arthur and the Great Adventure (2.7m)
Astérix and the Vikings (2.6m)
Miniscule (2m)
Historical/War
(3.7% of France's 10-year global box office)
The Pianist (17.8m)
The Messenger: The Story of Joan of Arc (8.5m)
Train of Life (1.2m)
Joyeux Noel (1m)
Vatel (613, 303)
Biopic
(2.3% of France's 10-year global box office)
La Vie en Rose (6.1m)
Coco Before Chanel (5.6m)
Grace of Monaco (3.1m)
Yves Saint Laurent (1.0m)
The Lady 880, 417
Police thriller
(2% of France's 10-year global box office)
The Crimson Rivers (5.8m)
The Crimson Rivers 2: Angels of the Apocalypse (4.1m)
Tell No One (1.6m)
The Immortal (1.3m)
Mesrine Part 1: Killer Instinct (1.1m)