EXCLUSIVE: Hollywood Classics to re-release banned 1930's film.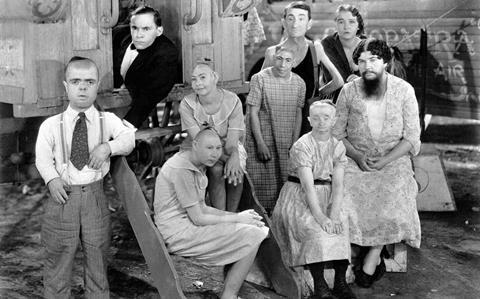 Hollywood Classics is to re-release Tod Browning's controversial classic Freaks in UK cinemas this June.
Browning's 1932 film about a travelling "freak show" circus was completed in 1931 but disastrous test screenings forced studio MGM to make extensive cuts .
The original version was considered too shocking and exploitative to be released, and no longer exists.
The final 59-minute cut was released to international audiences but was rejected by the BBFC in the UK until 1963 when it received an X-rating.
The film, whose cast was made up of carnival sideshow performers with real deformities, charts a love triangle between a wealthy dwarf, a gold-digging aerialist, and a strongman; a murder plot; and the vengeance dealt out by the dwarf and his fellow circus performers.
Eponymous characters include The Living Torso, Bearded Lady, Human Skeleton, Half Boy and Stork Woman.
While director and producer Browning was given considerable leeway by MGM during production, the film's commercial failure proved disastrous for the US filmmaker, whose successful career – highlighted two years earlier by the Bela Lugosi Dracula – never recovered.
In 1994, the film was selected for preservation in the United States National Film Registry as being "culturally, historically, or aesthetically significant".
Hollywood Classics explained the rationale behind the re-release to ScreenDaily: "Under our relationship with certain studios, we can create DCPs for selected features that we feel will be of particular interest to a discerning audience.
"Tod Browning's Freaks is widely considered of great cinematic importance, reflecting the macabre historical fascination of travelling freak shows - however the feature isn't widely available on home entertainment or TV/VOD in the UK.
"For that reason alone we feel the cinema-going customers deserve the opportunity to watch it again. Perhaps audiences will draw parallels with a current fascination for the numerous TV documentaries that follow those living with disabilities (eg, BodyShock, Extraordinary People, The Undateables)."
The film was last theatrically re-released in the UK in 2002.
Hollywood Classics re-released Michelangelo Antonioni's Zabriskie Point in 2014 and a digitally re-mastered version of Joseph L. Mankiewicz's Cleopatra in 2013.