EXCLUSIVE: Romanian Palme d'Or winner to explore complexities of bringing up children in Fotografii de familie.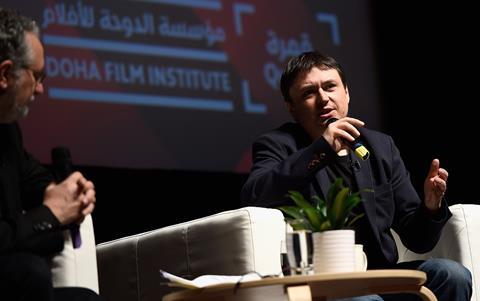 Romanian director Cristian Mungiu is gearing up to shoot his new film inspired by his own life and the implications of fatherhood.
"I've written a couple of scripts in the last three years and I've finally decided which one to do first. I hope to start shooting in the next six months," Mungiu told Screen.
The film called Fotografii de familie in Romanian, which translates as "family photos", was awarded $457,000 (1.9m Romanian Leu) by the Romania's National Cinema Centre on Monday (March 9).
It will be Mungiu's first film since Beyond the Hills, which premiered at Cannes in 2012 where it won best screenplay and shared the best actress Palme d'Or between the female leads.
"It's a story which is linked to where I am in life now" he revealed. "It's about compromise, parenting and children and understanding this relationship between what you say to your children and what they see you doing.
"It's set in Romania again. People are always asking me if I'm going to make an English-language film but I want to make personal projects about things that I know."
For the first time, the film will focus on a male character unlike his Palme d'Or winning 4 Months, 3 Weeks and 2 Days, about a woman who helps a friend secure an illegal abortion, and the convent-set Beyond the Hills.
"Everybody thinks I can only do female protagonists and it's not the case," he said with a wry laugh.
Mungiu spoke to Screen at the Doha Film Institute's Qumra meeting this week.
He attended as one of the 'masters' at the event, aimed at developing projects that have been awarded grants by the fund as well as nurturing emerging talent in the region.
At his masterclass on Wednesday, he talked about how the process of coming-up with a new film was a long one for him.
"In between films I have very long periods in which I am completely clueless about what I want to do next," he said. "I have no idea whatsoever where to start.
"I start having these ideas of maybe I don't know anything about cinema, that I am completely stupid and incapable of doing anything relevant. I'm not this happy, fortunate sort of guy who takes a shower, socialises and is then struck by an idea.
"I spend weeks and months in the office, thinking, even if don't write anything. I read books, watch films, talk to people - it can be very frustrating but eventually a spark comes."
Path to filmmaking
At the masterclass, Mungiu revealed he originally thought he would be a writer although he had a strong interest in cinema from adolescence.
"I never had a proper education about films. You have to place this in the context in which I lived," said Mungiu, who was born in the eastern Romanian university town of Iași in 1968 and grew up under the communist rule of Nicolae Ceausescu, who was overthrown and executed in the Romanian Revolution of December 1989.
"I lived in the 70s and 80s in Romania. I'm not from Bucharest. I'm not from the capital. I'm from a town of half a million inhabitants with a lot of universities. There were some seven cinemas, although not one is left today, but we didn't have a cinematheque," said Mungiu.
As a result, he explained, he only had access to popular, commercial films playing in the local cinemas or on Romania's single TV channel as a child.
"Later on in 1980s, when I was a teenager, I had a more privileged relationship with cinema through VCRS. VCRs were like a goldmine to have at the end of the communist era. I started watching a lot of films and then showing them in private screenings and even translating them — but it was chaotic and unplanned."
As a result of this and the creation of an itinerant cinematheque, that started visiting the town twice a year, Mungiu started to discover 'more sophisticated films" including the work of Federico Fellini, Andrei Tarkovsky and Krzysztof Kieslowski.
Journalism career
After a literature degree, Mungiu initially worked in journalism as way to hone his writing, covering the fall of Ceausescu and the early days of post-revolution Romania.
"All of sudden this unexpected thing happened. Even if we were aware of what was happening in Eastern Germany and all the Eastern countries we couldn't figure out how it would happen in Romania. The system was so strong and the secret police were so powerful and had been in place for so long and the whole reality was so distorted," said Mungiu. "We were all listening to Radio Free Europe. We knew what was going on but it still it came as a surprise."
"I kept working in the press in my hometown because it was a very burning period and it was interesting time to be in the press. People were stopping you on the street, asking you to tell them the truth after years and years in which the press had been distorted," he continued.
As the initial shockwaves of the revolution began to subside, Mungiu decided it was finally time to embrace his love of cinema and enrolled in film school in Bucharest.
He recounted that although the school had been useful on a practical level, allowing him to experiment with film and connecting him to the local industry, he had left with huge holes in his knowledge of cinema.
"In four years of studying we never went beyond the 1940s. They didn't have any copies of the films we were studying - it was theoretical. The tutors had a wonderful energy and passion but if you don't watch the films it's impossible to understand what they're talking about I came out of school with very little knowledge of cinema history," he explained.
Travelling cinema
Some 20 years on, Mungiu remains committed to supporting the screening of art-house cinema in Romania, where the number of screens has dwindled even further in recent years.
He recounted how after the Palme d'Or win for 4 Months, 3 Weeks and 2 Days at Cannes in 2007, he had toured the film back home to ensure it got seen.
"The Palme d'Or was a great thing but once I got back home, I realised the reality didn't match the expectation. There was a huge curiosity. People wanted to see the film but I couldn't screen it," recounted Mungiu.
"I took advantage of this special moment in my life," he continued. "I was able to fund raise a lot of money and rented equipment from Germany and did something that had been done in Romania forty years before, I toured the film, not in tiny villages where there was no cinema, but big towns where there was no cinema — we gathered more than 20,000 people in these screenings over 30 days in some 20 cities."