Curzon CEO Philip Knatchbull has stated that the company's decision three years ago to implement the London Living Wage for its staff is having positive ramifications across the business.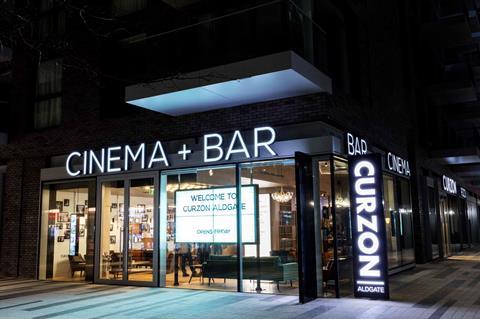 Speaking at the launch of the re-branded Film & Television Charity (previously the Cinema and Television Benevolent Fund or CTBF) today in London (March 15), Knatchbull explained that when he joined UK cinema chain and distributor Curzon in 2006, he discovered "a lot of outdated working practices".
"There was a very 'us and them' attitude between the workers and head office, it was undermining everything we were going to do," he said.
In the face of potential industrial action from disgruntled staff in 2015, Knatchbull asked his shareholders to provide the financial support needed to implement the London Living Wage, which is the suggested pay rate for any London workers as denoted by the Living Wage Foundation (currently £10.20 per hour).
Knatchbull said that the action "was a big cost" for the first two years but that now, in its third year, results are being seen. "The morale [at the company] is so much better and the productivity is better," he commented, also citing "better staff retention" as well as "better communication between staff and head office".
"If you look after people and pay people properly, you're going to get a lot out of them, they're going to be a lot more keen to work with you, and the sort of person who applies for the job might be a lot better," Knatchbull continued, adding that he "cannot say enough now how much of a supporter I am [of the Living Wage]".
Curzon operates 20 cinemas across the UK as well as VoD platform Curzon Home Cinema, and also distributes its own films through its Curzon Artificial Eye banner.
Picturehouse dispute
The CEO acknowledged the ongoing dispute between the Cineworld-owned Picturehouse chain and its workers, which has seen the latter regularly taking strike action as it campaigns for the London Living Wage to be implemented for all staff at the company.
"I know there's a certain other chain that has a lot of problems at the moment, but they're misunderstood in many ways as well. Employers do want to pay employees properly, of course they do, but the pressures, such as business rates, rents, regulation… I'm trying to present a balanced picture here. It isn't easy making these decisions about work practices," he said.
Rebecca O'Brien, also speaking at the event, was less magnanimous about the Picturehouse dispute.
"I will call out Picturehouse because their appalling dismissal of the London Living Wage just doesn't make any sense – if you pay people properly they really want to work properly," she said.
Harassment
At today's event, which was hosted by the Film & Television Charity to highlight its future plans, including the launch of a dedicated phone support line for industry workers and a travel support scheme, speakers also addressed topics of bullying and harassment.
O'Brien recalled a recent incident that has made her readdress instances of misconduct on-set.
"A woman contacted me who had worked on one of my films, not a Ken Loach one, who had experienced both bullying and harassment on the set," she said. "All of the stuff I was hearing was just wrong and I was shocked to hear it was happening on my film. She thought if she told someone in authority she might be in danger of losing her job – it's important to know it can happen on your own film. I'm going to be really vigilant from now on."
Simon Cornwell, co-founder of UK production house The Ink Factory, used the platform to denounce unpaid internships in the film industry.
"Unpaid internships are one of the most insidious ways of ensuring the flourishing of nepotism and the lack of access to the industry, so we got rid of them. We pay the London Living Wage to our interns, they're very well paid relative to the rest of our industry," he said. "We only recruit interns from groups of society who wouldn't otherwise have access to the industry – that's been hugely positive in the company – you're pleased to show up for work in the morning because you feel like you're coming to a nice place."
O'Brien also praised the Film & Television Charity's soon to be launched phone support line and the numerous initiatives that have been launched simultaneously, including the BFI and Bafta's industry bullying and harassment guidelines.
She said that positive change was already beginning to be noticed, using the example of a Netflix production that had seen the producers read out the guidelines to the entire production before it started shooting this week.