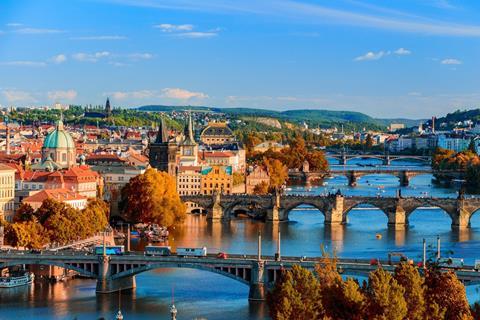 Production is gearing up to resume in the Czech Republic after the government issued guidelines on how film and TV shoots can emerge from lockdown subject to revised health and hygiene protocols.
Production on Disney+ show The Falcon And The Winter Soldier was suspended in early March, days before the Czech Republic became one of the first countries in Europe to close its borders on March 16.
However there is cautious optimism in the air after the publication of the guidelines on the Czech Film Commission's website on Thursday (May 7). It follows a response by the Central European nation to the pandemic that has resulted, at time of writing, in approximately 8,000 infections and 270 deaths.
Among other productions lining up, Amazon Studios is scheduled to shoot a new season of Carnival Row and new showThe Wheel Of Time.
The guidelines cover a range of subects from enhanced hygiene standards on set to protocols over how to treat visiting international cast and crew members.
They recommend among other things that select cast and crew members get tested for the virus every 14 days on a shoot. There is no mandate for actors in shot (including extras and stuntmen) to wear a face mask, although cast and crew not in shot are to use protective equipment including face masks and respirators.
Hard-to-replace people like key crew members and actors are to remain separated whenever possible. Temperature checks are not deemed necessary, unless someone reports feeling ill, because they are not regarded as authoritative indicators as body temperature can change due to reasons like external temperature, allergies and work fatigue.
Productions are exempt from bans on public gatherings as there is no public access to filming, a shoot is not defined as a cultural event, and a crew is a "collective body" with limited and minimal contact with the general public.
In order to avoid financial hardship on productions, international talent and crew can bypass the 14-day quarantine requirement imposed on other visitors upon arrival in the country so long as they test negative in their home country before the trip, test again within three days of arrival, and remain under quarantine until they get a negative result back.
At time of writing, Czech restrictions do not permit arrival by visitors from most non-European countries, although reports say these could be lifted next week.