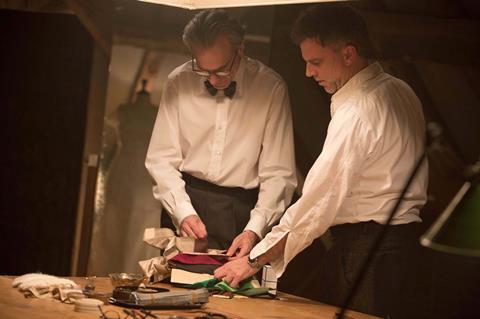 Three-time Oscar winner Daniel Day-Lewis has revealed what he enjoys most about working with his Phantom Thread and There Will Be Blood collaborator Paul Thomas Anderson.

Day-Lewis has previously spoken about a challenging and charged atmosphere on the set of Phantom Thread and how he and Thomas Anderson became "overwhelmed by a sense of sadness" during the shoot.
On Saturday, however, speaking alongside the director and his co-star Vicky Krieps after a private screening in London, the actor revealed what he likes most about working with the US director:
"There's nothing mad you can do that he won't encourage you to be madder. I love that. You are always so close to the line of chaos, which you have to be for it to be alive. There's so much misunderstanding about preparation. You prepare for a long time, of course, if you are lucky, but the only reason you prepare is so that you don't have a clue what you're doing when you start, and to have the confidence not to have a clue what's going to happen. I think Paul loves that element of risk. Of course, the only real risk is that you're going to make a huge fucking fool of yourself and you do that every day anyway. But it does feel like you're in the presence of danger."
Krieps, who admitted to getting drunk the night before her first day on set to quell her nerves, described the same improvisational atmosphere.
"It was always open and close to chaos. It wasn't planned how we would do something. The atmosphere was changing a lot."
Influences
Oscar-nominated Phantom Thread, which Day-Lewis has said will be his last film, charts the story of a renowned dressmaker whose fastidious life is disrupted by a young, strong-willed woman, who becomes his muse and lover.
During the Q&A director Thomas Anderson said that the film's intense cat-and-mouse love story was inspired by two movies from the 1940s.
"Anyone who has been in a relationship for a long time will notice that the balance of power can change very quickly. I had Rebecca in my mind and another great film called The Passionate Friends. My feeling about Rebecca is that I wish Joan Fontaine ['s character] would have turned to Laurence Olivier ['s character] at some point and said 'enough'…I wish she had poisoned him," the director joked in reference to one of Phantom Thread's plot-lines.
Day-Lewis explained that designer Charles James was an early inspiration for his character even if he and Thomas Anderson later moved away from him as a model.
Thomas Anderson confirmed that Spanish designer Cristobal Balenciaga had been a key influence on the film's aesthetic. Day-Lewis, who spent months preparing for the role, even tried his hand at making a Balenciaga dress before shoot got underway.
Later in the evening, Day-Lewis was asked if there had been any film roles he wishes he could have played.
"I don't think so," he said, before adding: "There have been performances certainly when I was starting out and discovering films, performances that filled me to the point of bursting with the desire to try to do something, but that's always an element of believing it's impossible that person can do that.
He expanded: "Just a few days ago, I had a mate staying with me in Ireland, and we rummaged through some films I have and he said: 'When's the last time you saw Kes?' Well, I've probably seen that film a dozen times. That film affected me more than any in my life and still does. David Bradley's performance was one of the most beautiful performances I've ever seen. Everything in it is so beautiful and true. Ken Loach is a shining light in this country."