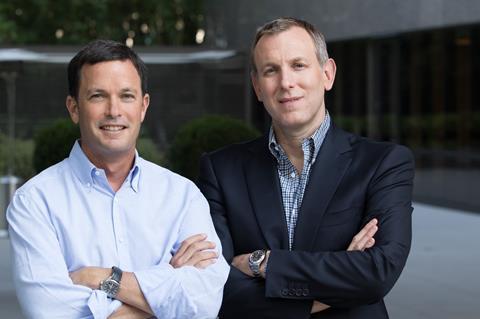 David Kramer and Jay Sures have been named co-presidents of United Talent Agency (UTA), it was announced today by UTA's board of directors. Along with CEO Jeremy Zimmer, the two longtime agency leaders have directed UTA's significant growth and expansion over the past several years.
Since becoming managing directors in 2010, Sures and Kramer have worked with Zimmer to significantly grow UTA's business. Over the past five years, the company has doubled in size to now include over 850 people globally, made major acquisitions in the music, news and finance sectors, and recruited numerous leading agents and executives into critical positions on the creative and business sides.
Kramer oversees UTA's motion picture group, which includes its literary, talent, independent film finance, media rights, and production departments, and he also directs the agency's comedy touring, licencing, endorsement and publishing arms. Sures oversees the agency's television divisions, encompassing everything from UTA's scripted and non-scripted groups, news and broadcasting, TV talent and its fast-growing speakers group.
In 2017, UTA announced its equity stake in investment firm AGM Partners, a 20% expansion of its partners ranks. This year the agency has a roster of directors that represents half the year's top-grossing films, and it has market share leadership in the world of news and broadcast representation. Earlier this year, the company made the decision to cancel its annual Oscar party to instead hold a "United Voices" rally that attracted nearly 2,000 people from across the creative community and financially benefitted the ACLU and International Committee for Refugees.
They are both longtime members of the UTA board of directors, along with Zimmer, UTA chairman and co-founder Jim Berkus, UTA co-founder Peter Benedek, Tracey Jacobs and Matt Rice, as well as outside investor Jeffrey Ubben. Kramer and Sures both began their careers as assistants to Benedek.
Zimmer commented: "Jay and David embody the greatest parts of UTA, and I couldn't ask for better, smarter or more creative partners. They are, first and foremost, among our industry's best agents. But they are also great colleagues, whose collaboration and entrepreneurship have helped build UTA into what it is today—a true, diversified media company with global reach. As UTA continues to grow and pursue new ventures, partnerships and acquisitions, these titles are a more appropriate reflection of their central roles and what's next for UTA as an entertainment company."
Kramer and Sures added: "As we continue to expand and evolve into a truly diverse entertainment company, artists and creators remain at the center of everything we do. For us, this partnership has worked so well for so long because it's always been more than just a professional experience. We've loved working and growing the business together, and we look forward to continuing that work with our fellow board members, partners, and everyone across the agency."
Berkus said: "It has been one of the great joys of my career to watch David and Jay ascend through the UTA ranks. I could not be more thrilled with their achievements or more confident in the agency's future. Jay and David are homegrown, tight-knit and excellent leaders. I'm proud of the amazing work being done to take our company forward as one of the leaders in our industry."