FDA president also calls for a senior indie distributor to be appointed to the BFI board.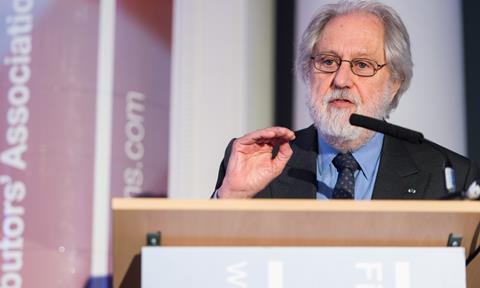 As Brexit continues to pose fundamental questions to the industry a year after the UK voted to leave the European Union, veteran British producer and Film Distributors' Association (FDA) president David Puttnam has called for Britain to remain in the EU's MEDIA programme.
Speaking to Screen after delivering his annual keynote address to the FDA, he expressed his confidence it may now be possible for the country to remain in the EU initiative, which provides funding to support the development and distribution of films.
"A soft Brexit, which becomes more possible because of the election, would incorporate things like university research. If we manage to create an environment in which it was accepted that British universities would engage with the Leonardo Programme and all those university programmes, I can well imagine this (the MEDIA Programme) being bundled in with that type of approach – those cross-country cultural programmes."
Puttnam added that it is in the interests of other EU members to have the UK remain in the Media Programme: "We are an access point to the US market. If they are suddenly cut away from us, the only English-language market available to them is Ireland – and Ireland is not a big enough market to justify the dubbing of a movie."
He also warned that it would be bad public relations for the government if the UK was to become isolated culturally.
'It is very, very hard for the (UK) government to argue that as a byproduct of their policies, they are effectively bringing an iron curtain down culturally. No Government would want to claim that."
Finishing VPF
Speaking on another contentious subject, he called for UK exhibitors to arrange an orderly finish to the Virtual Print Fee (VPF) system and warned of potential chaos if VPFs remain in place at some sites but not at others: "There is a real downside to being the last man standing charging fees. If I'm an independent distributor, I'll say, 'You know what, sod it, I am not going to play there…I'll just frankly avoid that chain of cinemas.'"
The veteran producer suggested it was "common sense" for there to be an agreed end date to the VPF scheme.
BFI changes
Puttnam also called for a senior independent UK distributor to be appointed to the board of the British Film Institute.
"I think distribution has always been poorly represented at the BFI partly because the BFI sees itself as a cultural institution. Whilst it was only a cultural institution, that argument held. It is not now only a cultural institution. It is the body responsible for all UK film policy – so to pretend that distribution doesn't have parity with filmmaking is ludicrous."
"What it needs is for the sheer logic of the position to be put across, not the fact that David Puttnam thinks there should be an independent distributor [on the BFI board]. The BFI itself should be embarrassed at not having an independent distributor," he declared.
Strong year
Earlier, in a packed basement of the Westbury Hotel in Mayfair, Puttnam delivered a typically wide-ranging speech on the state of the UK film industry in 2017.
He began by celebrating the strong start to the year. "By the end of last week," Puttnam noted, "UK box-office receipts in 2017 had crossed £450m in new-record time, remarkably 20% ahead of the same point last year."
Likewise, admissions have soared past 50 million this year to date, propelled by 250 new releases.
Later in his speech, Puttnam also returned to the familiar theme of the rigid theatrical window. "In previous FDA addresses, I've tried to drive home the point that the 'one-size-fits-all' window of theatrical exclusivity – lasting around 17 weeks – imposed by each of the UK's mainstream exhibitors operates as a form of 'digital rights freeze'.
"In effect, it removes our product from the shelves, helping bring about the very piracy window that cinema operators most fear – how ironic is that!
"Britain is now lagging behind other territories, where – crucially – a little more flexibility has evidentially not reduced the box-office one iota.
"At the very moment Digital Britain is remodeling itself, our overly rigid theatrical windows are, to my mind, a ludicrously outmoded analogue practice, with absolutely no place in the 21st century," he concluded.