Speaking at DCM Upfronts, Tom Linay predicts strong 2016 at UK box office; Sir John Hegarty delivers keynote.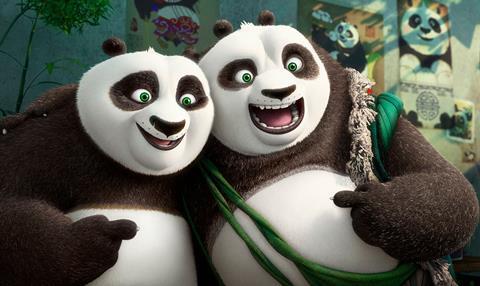 Speaking at the annual DCM Upfronts event, Digital Cinema Media's annual exploration of the cinema advertising landscape, the company's head of film Tom Linay predicted that 2016 would be the biggest year ever for family films at the UK box office, surpassing the current landmark set by 2013.
He highlighted Kung Fu Panda 3, The Jungle Book, The Secret Life Of Pets, The BFG and Finding Dory, claiming that the latter - Disney-Pixar's sequel to Finding Nemo - should be the biggest animated release of the year.
He added that the year's animation slate would be comprised of both strong franchise entries and original properties, suggesting that Illumination Entertainment's The Secret Life Of Pets, the company behind the Despicable Me and Minions films, and Disney's Moana were likely to both perform strongly.
In 2013, Despicable Me 2, Monsters University, Frozen and The Croods all occupied spots in the UK's box office top ten of the year, with Wreck-It Ralph also in the top 20. Linay claimed that Finding Dory, The BFG, Ice Age: Collision Course and The Secret Life Of Pets could all repeat that feat.
Linay also stated that he expected 2016 to match up to the box office of 2015, which has been a bumper year already with Jurassic World and Spectre both cracking the all-time UK box office top ten, and Star Wars: The Force Awakens still to come in December. He highlighted the likes of Star Wars: Rogue One, Fantastic Beasts And Where To Find Them and Batman Vs Superman.
Speaking in her opening address, DCM chief Karen Stacey stated that UK box office admissions would pass 172 million in 2015 for only the sixth time in the previous 40 years.
DCM sells 80% of the UK cinema industry's advertising landscape, through exhibitors including ODEON, Cineworld, Vue and Picturehouse.
John Hegarty
The event's keynote address was delivered by advertising legend Sir John Hegarty, founder of global agency BBH.
He opened by humorously stating that everyone present should just go for a drink to celebrate the previous year's bumper box office, before recounting how throughout his career he had always been a huge proponent of brands using the cinema medium for adverting campaigns, referring to it as the "mother of all screens".
Responding to recent controversy around DCM's decision to prevent an advert from the Church of England playing in UK cinemas, Hegarty joked: "I think it's funny that the archbishop wants to go to a cinema to get his audience. What has happened in the churches?"
He then discussed the marketing genius of two very distinct brands: James Bond, which he said had perfected the art of repeating message with its "Bond, James Bond" catchphrase, and The Church,
Hegarty concluded by emphasising the cultural importance of cinema, and the positive effect this could have on brands who choose to advertise within the medium.
"People forget that if you are building a brand you want it to be part of society, a brand that people want to talk about," he added. "You do that by placing the brand in media that in itself has cultural importance."
Cinema ad brands
Vincent Blaney, European brand director for media and digital at market research firm Millward Brown, delivered a speech on building box office brands.
He drew on research that claimed 87% of adults consume different media simultaneously (e.g. using an iPad while watching the TV) and that cinema was the only media exempt from this.
Millward Brown has recently published a study in association with DCM titled Building Box-Office Brands. The two companies will have an on-going partnership over the next three years that will aim to continue delivering insights into the cinema advertising industry.
Blaney highlighted the company's research that cinema beat television in terms of making advertising brands memorable, driving 'brand love', and converting audiences into customers.
Warner Bros slate
Alexandra Lewis and Neil Marshall of Warner Bros. were invited to the event to present the company's 2016 slate.
They mounted a defence of the film industry against criticism for lack of original ideas, stating that ultimately they were commercially-minded and that 17 of the top 20 highest-grossing films of all time globally were built on existing properties.
The films presented included Batman v Superman: Dawn Of Justice, The Legend Of Tarzan and Fantastic Beasts And Where To Find Them.