Warner Bros' How To Be Single is the week's highest new entry with a healthy $2.7m (£1.88m) debut from its 433 sites.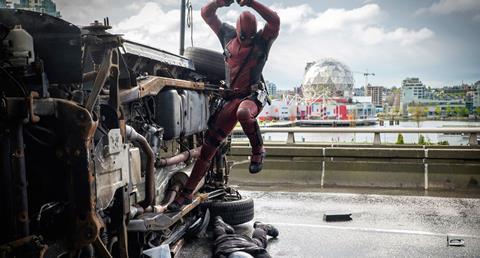 Additional distributor results to come…
FOX
Deadpool followed up its outstanding debut with only a 44% drop (excluding previews) as it retained its lead at the UK box office.
Fox's comic book adaptation sliced its way to a further non-final $8m (£5.7m) for a superb $36.6m (£25.85m) after just 12 days in play. It will shortly become the biggest Marvel outing for Fox, overtaking X-Men: Days Of Future Past which made $38.4m (£27.1m).
In terms of overall superhero outings in the UK, Deadpool currently ranks as the tenth biggest, but it will quickly overtake the likes of Spider-Man 2 ($37.9m/£26.72m), Guardians Of The Galaxy ($40.4m/£28.5m) and Spider-Man ($41.1m/£29.03m).
Achieving as much with a higher certificate than any superhero film to date is a remarkable feat. A strong third weekend hold (with Grimsby the only major competition) is expected and after that we will get a clearer picture of its ceiling.
It was a second straight one-two punch at the UK box office for Fox as Alvin And The Chipmunks: The Road Chip boosted 35% (excluding previews) for a strong non-final $5m (£3.54m) for $18.6m (£13.14m) to date.
The Road Chip will soon become the second-biggest outing of the series, ahead of Chipwrecked's $19.8m (£14m), and stands a great chance of challenging The Squeakquel's $33.9m (£23.93m) result.
Also for Fox, The Revenant fell only 5% on its way to a $964,000 (£680,202) sixth weekend for $29.8m (£21.04m), while Neerja opened with $151,000 (£106,449) from its 36 sites.
Snoopy And Charlie Brown: The Peanuts Movie stands at $14m (£9.87m).
WARNER BROS
This week's highest new entry came in the form of How To Be Single as it charted third with a respectable $2.7m (£1.88m), including $574,000 (£405,000) from Valentine's Day previews, from its 433 sites.
Warner Bros' comedy recorded a healthy $6,137 (£4,330) site average as it prospered in a busy market as counter programming. Midweek returns could also be strong given the end of half term.
Also for Warner Bros, action remake Point Break has failed to energise, taking a slim $1.2m (£839,000) after three weeks in play.
SONY
Benefitting from half term, Sony's Goosebumps boosted 22% on its way to a $1.8m (£1.3m) third weekend for $10.8m (£7.6m) to date.
It's unlikely, however, to top the $21.6m (£15.23m) result of Gulliver's Travels, director Rob Letterman's previous collaboration with Jack Black.
Also for Sony, Chinese box office sensation The Mermaid got off to a terrific start with $170,000 (£120,000) from its 19 sites, while Hotel Transylvania 2 has now grossed $29.2m (£20.65m) after a school holiday boost.
UNIVERSAL
Rounding off this week's top five was Universal's Dad's Army with a $1.2m (£815,094) third weekend. The big screen adaptation of the beloved sitcom has now marched to $9.7m (£6.87m).
Also for Universal, Ride Along 2 stands at $8.2m (£5.76m) after five weeks in play.
EONE
Charting sixth on its UK debut was eOne's Triple 9 with a solid but unspectacular $1.2m (£814,482) bow from its 444 sites for a $2,599 (£1,834) site average.
It narrowly missed out on being director John Hillcoat's best-ever UK opening which remains Lawless' $1.4m (£973,234) from 410 sites. Triple 9 will hope to connect with an older midweek audience as it attempts to track down Lawless' $6.1m (£4.3m) result.
Also for eOne, Spotlight has now amassed $6.2m (£4.38m) following a $462,000 (£326,005) fourth weekend, while Freeheld could only manage $18,000 (£12,631) from its 12 sites on debut.
PARAMOUNT
Zoolander 2 fell more than 40% (excluding previews) in its second weekend, adding $1.09m (£770,000) as it fell to seventh.
Paramount's comedy sequel is now up to $5.7m (£4.01m) and won't manage to come close to fellow long-awaited sequel Anchorman 2: The Legend Continues which took $20.3m (£14.3m).
Also for Paramount, The Big Short is up to $7.4m (£5.21m) after five weeks in play.
DISNEY
Into its tenth week, Disney's Star Wars: The Force Awakens added an extra $513,000 (£363,812) for an outstanding $172.4m (£122.32m) to date.
Also for Disney, The Finest Hours was cut adrift on its UK debut as it took a soft $348,000 (£246,768) from its 426 sites, while The Good Dinosaur is now up to $20.9m (£14.81m) following a $197,000 (£140,083) weekend.
STUDIOCANAL
In its second weekend, Studiocanal's A Bigger Splash took an additional $279,000 (£197,651) for $1.1m (£748,428) to date.
Also for Studiocanal, Room and Youth have amassed $4.9m (£3.45m) and $1.1m (£793,816), respectively.
DOGWOOF
From its ten sites through Dogwoof, Mavis! posted a $12,000 (£8,350) UK debut including $7,000 (£4,978) in previews.
CURZON ARTIFICIAL EYE
Cannes 2015 title Chronic grossed $9,800 (£6,971) from its 12 sites on its UK bow through Curzon Artificial Eye.
UPCOMING RELEASES
This week sees saturation releases for Sony's Grimsby (opens Feb 24), Universal's remake Secret In Their Eyes and Icon Film Distribution's The Forest.
Vertigo Releasing's King Jack, Metrodome's The Propaganda Game and Arrow Films' The Benefactor are among the films receiving a limited release.