Well-received race and identity comedy Dear White People marks the first acquisition for The New Black Film Collective but the film faces significant challenges in the UK.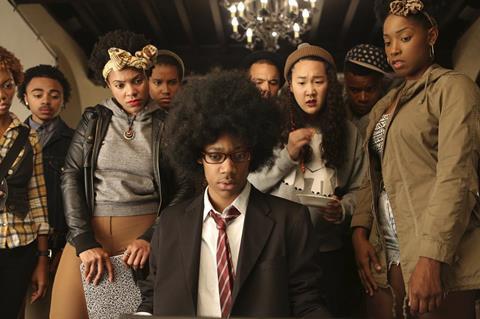 Justin Simien's Sundance-winning feature debut Dear White People, the identity comedy about the tension between white and black students at an elite university, was a critical and commercial success in the US.
The low-budget indie – part-backed by crowd-funder Indiegogo - took $4.5m at the US box office in October and was widely praised by US and international critics.
Tessa Thompson (Copper) stars alongside well-known TV faces Tyler James Williams (Everybody Hates Chris) and Dennis Haysbert (24) in the film, which carries important messages about race and identity but also "smartly pinpoints people's universal needs".
The New York Times' A.O Scott hailed the film as "as smart and fearless a debut as I have seen from an American filmmaker in quite some time…everyone should see this movie".
International outlets were also effusive. The BBC called the film "thrillingly sharp-witted" while The Guardian, in a more mixed review, still described the film as "bursting with ideas".
Off the back of the strong US box office, sales company The Exchange bucked the supposed 'urban curse' by selling the film to France, Spain, Korea and Latin America among others.
Meanwhile, in the UK, the film played to multiple packed screenings at the London Film Festival and the BFI Flare Film Festival.
However, despite the many critical and commercial positives, the film has struggled to find industry suitors in the UK.
No established distributors bit on the theatrical rights. When the head of an innovative black-focused exhibition group reached into her own pocket to buy the film, no distribution support followed from public bodies. No commercial chains are slated to show the film. And until last week no cinemas had agreed to a seven-day run. Why?
Landscape
Good films that foreground race should be relatively safe bets in the UK.
As a society the UK is fascinated by race and identity. From Rachel Dolezal to Ferguson, immigration to Benedict Cumberbatch's ancestors, race and identity often dominates the newslines and water-coolers.
We also know that the UK's growing proportion of ethnic minorities (at least 13% of the UK population) love film. According to the latest BFI research, black and minority ethnic groups (Asian, Chinese, mixed and other) are over-represented among buyers of cinema tickets, video rental and pay-per-view (PPV).
Then there's the research that shows that ethnically diverse films can perform particularly well at the box office.
The 2015 Hollywood Diversity Report, commissioned by UCLA, highlighted that in 2012, worldwide box office takings were highest for the 15 films with casts that were from 31% to 40% ethnic minority.
But the track record at the UK box office of films that foreground race isn't good.
Many have struggled: Fruitvale Station, Half of a Yellow Sun, Mandela and Selma [whose black British star David Oyelowo also inexplicably missed out at the BAFTAs], among others.
The one film to perform brilliantly in recent years was 12 Years A Slave, which took a whopping $33m last year.
Starry affair The Butler – a massive hit in the US - took a healthy $7m but also had a hefty p&a behind it and was still never among the top four most popular films in any given week.
So do films about race need Michael Fassbender, Brad Pitt and Benedict Cumberbatch in them to break out in the UK?
Industry responsibility
At a time when race remains high on the agenda, in and outside the film industry, exhibition veteran Priscilla Igwe spent thousands of pounds of her own money to try and ensure Dear White People got some-kind of theatrical release in the UK, where it marks the company's first acquisition.
Igwe is a mainstay at exhibition and festival collective The New Black Film Collective, which specialises in promoting films "of black representation."
"I was very surprised no-one had picked it up yet," explains Igwe.
"Other companies had passed on it. They probably found it difficult and perhaps didn't know how to pitch it so I thought 'why not? This could be the catalyst for the New Black Film Collective. This could be a calling card.' I knew it was a goer."
"We looked at the film," confirmed one distribution executive. "It is always about defining how big the audience is for it. We are looking to do meaningful box office on even the smaller films and we felt like the film fell below that mark. There's still business in it, though".
The Collective reached out to the BFI for support with the film's release.
On the face of it, Dear White People would seem a good fit for BFI distribution support: a collective of black-focused organisations, largely operating in the regions, had taken a risk to acquire a smart, potentially commercial film from an emerging talent and were now looking to break it out in the UK.
Added to that, the message from the BFI has been loud and clear in recent months: more support for the regions, more support for diversity. Igwe was hopeful the company would qualify for a New Model Award, a Breakout Award, or even a Vision Award.
However, no support was granted.
By that stage, however, there were some clear structural reasons for the film's likely small release in the UK and why some industry partners were hesitant to back it after it was not initially picked up.
When the UK theatrical deal for Dear White People was finally struck by email this March, the film had already sold to Netflix, which slated an October release in the UK. Signature, which bought the home entertainment rights, had already scheduled a UK home entertainment release in August.
The collapsed theatrical window accounted for the cheaper price and also why many commercial chains now won't show the film, which is due to reach about 10 independent venues, including The Prince Charles cinema, where it will debut.
And of course, the challenging climate for independent cinema applies to all independent features desperate for a platform. The market is log-jammed.
But for Igwe, the lack of support – both initially and subsequently - for Dear White People is indicative of a wider trend. She believes that a diminishing number of BAME industry in the UK do not operate on a level playing field and that black films are not getting the support they warrant from the industry.
"It's much harder for black film," Igwe tells Screen. "We have to work much harder to get the same opportunities and we have to work much harder to get the same support."
"Some of it is unconscious bias," she continues. "Certain sectors are risk averse and don't want to push the envelope. But when a film like Dear White People comes along as an industry we should be taking a chance on it."
"There's some truth to the assertion that distributors aren't prepared to take adequate risks," confirmed one distribution head. "There is more work to be done. But we're all dictated to by the bottom line. You have to be realistic.
"Dear White People is a US film, with a near-total black US cast, middling to good reviews and is all set on campus. If the film had had five star reviews we'd have taken it on. If exhibition are a bit soft and reviews are good but not good enough then it becomes tough."
Petition
However, bias is deeply ingrained, claims Igwe, whose New Black Film Collective recently teamed up with black activist group BARAC to launch a new petition calling for UK cinemas to screen the film.
The petition, signed by more than 600 people, doesn't hold back, claiming the film is suffering from "institutional racism".
According to the petition, the industry response to the film "is part of a wider problem of institutional racism in the industry, whereby films featuring black characters, exploring race and identity and/or made by black producers/directors are repeatedly rejected for theatrical release, meaning that they go straight to DVD / Blu Ray release unless they portray black people in negative stereotypical roles or there is a tokenistic response of one-off screenings linked to cultural events such as Black History Month with very limited or no screenings outside of London."
The charge is a strong one but sadly not a surprising one.
Exhibition veteran Jason Wood, former director of programming at Curzon Cinemas, and current artistic director of Manchester venue Home, agrees with the assessment:
"The charge of institutional racism is absolutely true. I completely agree. It's undeniable if you look at the treatment of something like Fruitvale Station, Selma or Honey Trap, these films do have a harder time."
Wood, who last week became the first exhibitor to book the film for a seven-day run, believes the audiences for diverse films is there and industry must respond to the demand:
"I booked Dear White People for a seven-day run because it's an important film and the way it is being distributed is important. We've found that the response to similar films has been very good.
"Our most successful film to date has been Girlhood, which I know is on a different level but does deal with similar subject matters," he continued.
Many UK distributors have backed films about race, or films led by black cast and key crew [Dope, another Sundance-winner, is soon-to-be released by Sony]. And many exhibitors have shown those films. The BFI and other funding bodies have also backed a number of those films. But it's also true that there are many examples of diverse films that would seem to warrant more joined-up attention.
Second Coming?
While at the far end of art-house, acclaimed theatre and TV director Debbie Tucker Green's UK feature debut Second Coming, released on June 5, is a case in point.
Nadine Marshall and Idris Elba star in the drama, which was given four stars by the Guardian, who described it as "bold, striking and dreamy."
While not overtly about race the film stars black actors and is directed by a black first-time writer-director Tucker Green. The BFI was among the film's champions at production stage, investing in it and describing it as "a brilliant example of the type of new work we hope to champion – a bold, unique film from a filmmaker prepared to take risks".
But after being deemed worthy of BFI production support, the film's distributor Kaleidscope didn't receive any distribution help after applying to the BFI, a decision that is doubly puzzling in light of the number of much bigger distributors that annually receive significant BFI awards of £300,000 to break out other independent films.
As of two weekends ago, the well-reviewed film had only found favour with four UK cinemas for a running total of less than £10,000.
Engagement
Wood, like Igwe, also sees structural failings within the industry when it comes to backing diverse films.
"We need to question why these films struggle to get heard as widely as they should. You can't expect people to see the film unless you book them in and you have an engagement structure within your organisation to reach under-served audiences.
"I admire the Collective for trying to take things into their own hands but my concern would be that this film is still under the radar".
The model for challenging, independent releases is certainly in flux, however.
"Maybe the natural life for some of these films will be on other platforms," acknowledges Wood. "That model of a seven-day release is changing. Distributors will need to reach out to more individual venues and networks for one-off screenings that can potentially be eventized."
But cinemas themselves can also do more to attract new audiences.
"One of the barriers to getting different kinds of audiences into cinemas is the price-point and how some of the cinemas market themselves. Some independent venues, in particular, can look quite intimidating to new audiences."
Future
Investment in diverse audiences and companies will be key to improving the status quo, says Igwe.
"We need to invest in audiences and those who are reaching those audiences. Apart from Talking Drum [whose website lists its last release as more than one year ago] we are now the only black distributor.
"We have a way to go to achieve what the UK Asian market [Bollywood films, backed by large local distributors, often perform well at the UK box office] has done. But it has taken them a long time to get there. And it has taken investors."
In a positive but belated move, the BFI finally appointed a diversity lead in April. The UK's lead body for film is also looking to roll-out its three ticks model across more funding decisions.
Next up, The New Black Film Collective is hoping to secure some screens from distributor Universal to Oscar-nominated drama Beyond the Lights, Gina Prince-Bythewood's film starring BAFTA rising star Gugu Mbatha-Raw, Nate Parker and Danny Glover.
The Edinburgh-bound film took more than $15m in the US but according to Igwe was slated to go straight to DVD in the UK on June 29.
As for Dear White People, Igwe hopes the acquisition can become not only the company's calling card but another important message to the industry.
"We can all moan about the situation but it's about being part of the solution. Even if a handful of people see it we will have tried."