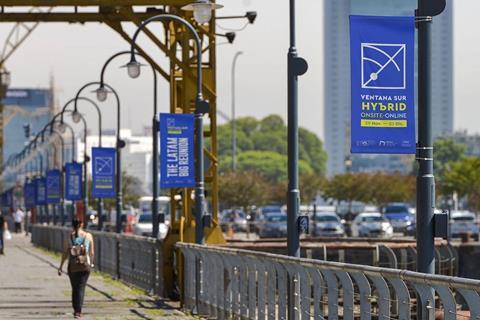 Fernando Babuy de la Torre's Peru-Colombia-France family drama Diogenes took the Cine+ Club Award for films in post-production as the hybrid 2021 Ventana Sur came to a close in Buenos Aires.
The award was one of many in a huge awards roster announced on Friday (December 3) that marked the end of the market's 13th edition and included the Cine + Club Award in Copia Final for Mariano Biasin's Sublime from Argentina, which like Diogenes means the French distributor that acquires the film in the next two years will get an award of €15,000 (approximately USD $16,900) towards the release.
Netflix awarded its first prize of Ventana Sur, giving SoloSerieS selection AR$500,000 (approximately USD $5,000) to promote the development of the series Ayelén And The Forest Shadow (Arg) by Luz Rapoport, Celeste Lambert and Sofía Sauval. The €15,000 (approximately USD $16,900) Espotlight Award went to The Eagle Heist (Uru) by Rodolfo Santullo.
SoloSeries was the inaugural marketplace for series and microseries projects in Latin America and was one of two new programmes alongside Las Maquintas, an Iberoamerican video game showcase where winners included Diana Limón's I'm Not Jelly (Mex), which receives the Zvook Award that comes with a voice acting package, and Iván Jesús Mastrandrea's Noir Storm (Arg), recipient of coaching on distribution under the auspices of the Plug In Digital Award.
In the Proyecta co-production programme organised with San Sebastian Film Festival three producers earned accreditation to participate in Producers Network at 2022 Cannes Film Festival: Benny Drechsel for Alfredo Laron (Ger-Fra-Ec), Burak Çevik for Another Possibility (Tur-Ger), and Jamie Weiss for The Future Hasn't Changed Us by Adrián Orr (Spa-Por).
The Doc Sur Senal Colombia Award which gives the winner the chance to pitch at the co-production market of RTVC-Senal Colombia went to Female Dragon Tamers (Arg) by Damian Leibovich. The Ventana Sur Award granting honorary recognition and supporting access to festivals and markets went to The Ones Who Leave (Arg) by Diego Lublinsky and CCIPNA, Intercultural Community City of Peoples and Nationalities (Ec-USA) by Juan Carlos Donoso Gómez.
Under the auspices of Premios Animacion – animation has been a major growth area for Ventana Sur in recent years – the MIFA / Annecy Award went to Cotton Bottom Town (Col) by Felipe Rodríguez (Col), Livraria Berg (Bra) by Rubens Belli, Chaskis – Mensajeros Del Sol (Per) by Alex Agurto Quesada, and Halloween (Col) by Silvia Prietov. Each winner gets accreditation and official selection in Animation! Special Program at MIFA 2022 for their projects.
In the Blood Window genre sidebar the Sitges, Fantastic Film Festival of Catalonia Award went to Upiro (Spa) by Óscar Martín and Elena Muñoz and Hour Of The Sorcerer (Arg) by Cristian Ponce. The winners will participate in the industry programme of the next Sitges Pitchbox at the fantasy festival in Spain next year and one representative of the film will attend.
Blood Window Screenings honoured Eros Thanatos (Chile) by Felipe Eluti (Chile) with La Mayor Award of a final mix; Alberto Serra's The Farm (Pan) with the Sofia Films Award for colour correction, Composing and a VFX supervisor for a selection film; Níobe (Bra) by Fernando González Cruz de Mamar with the Chemistry Award of a post-production package; and In the Forest (Ec) by Christian Rojas and Pablo Juela with the LaHaye Media Award of colour correction room and DCP Mastering.
The Blood Window Screenings Award went to Sabrina Greve's The Basement Of Scream Street (Bra) which gives the filmmaker participation in Blood Window showcase in Cannes next summer and an endorsement by Sitges and consideration for that festival's 2022 edition.
The 2021 hybrid Ventana Sur ran November 29-December 3.