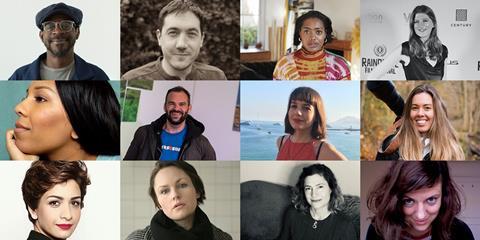 Two UK directors with a disability are among the second round of the Film and TV Charity's John Brabourne recipients for 2020.
The talent development grant, totalling £60,000 ($80,000), is presented to a 12-strong cohort of UK writers, directors, and producers.
See below for full list
The award, which runs twice a year, provides up to £5,000 to cover expenses ranging from development to training, production and living costs, and is aimed at helping upcoming talent overcome barriers, realise career-changing projects and take vital next steps in the industry.
Among the latest recipients is Bim Ajadi, a BAFTA Breakthrough director, who will use the award to develop a short film project demonstrating his skill as a filmmaker rather than as a deaf director, in an effort to attract more mainstream work. The London-born director's short films include drama Here/Not Here, which explored a combination of hip-hop and sign language.
Also awarded support is David Proud, who has used a wheelchair since being born with Spina Bifida and is best known as an actor in TV series such as Eastenders. He is now co-directing documentary My Extinction alongside Paul Viragh, which looks into the future of disability and scientific advances.
The charity has also awarded support to Zillah Bowes, a cinematographer on projects including Enemies Of Happiness, which won the grand jury prize for documentary at Sundance in 2007. As a director, she recently completed fiction short Staying (Aros Mae) with Sixteen Films and is developing her first feature.
Other recipients include producer Jen Corcoran, who is developing a slate focused on stories from the northeast of England; and Scottish filmmaker Libby Penman, who is directing a documentary examining the impact of the climate emergency on wildlife in Scotland, and will use the funds to cover the cost of specialist camera equipment.
The charity will also support Jay Bedwani, a documentary filmmaker based in Cardiff whose work has screened at LGBT festivals internationally. His award will fund his place on a cinematography course in London and provide development support for his second feature film. His debut, Donna, follows the story of a well-known transgender elder in San Francisco and is slated for release in early 2021.
The awards are named after late UK producer John Brabourne, whose credits included Murder On The Orient Express (1974) and A Passage To India (1984).
John Brabourne 2020 awardees – second round
Fateme Ahmadi
Bim Ajadi
Heather Basten
Jay Bedwani
Zillah Bowes
Jen Corcoran
Francesca Fowler
Eloise King
Sky Neal
Libby Penman
David Proud
Eloise Singer