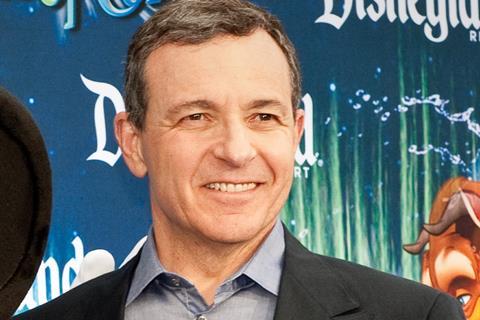 Disney will "walk instead of run" when it launches its streaming platform in late 2019, chairman and CEO Bob Iger told analysts during an earnings call on Tuesday (August 7).
Referring to the OTT service's place in a landscape dominated by Netflix, Iger sounded optimistic and measured. "We want to make sure we're managing expectations," he said. "The price of the service will reflect that; the volume of the product that's on." Some in the industry anticipate an initial cost of up to $8 per month.
While a significant amount of Disney's earlier content remains tied up in deals with Netflix and pay-TV companies and will take a while to migrate to the new platform, Iger said the 2019 film slate will be available including titles like Captain Marvel, the next Avengers film, Toy Story 4 and Frozen 2, as well as original content.
The company's OTT roster will include Fox and Fox Searchlight content pursuant to the recent $71.3bn acquisition of 21st Century Fox's entertainment assets, which include the FX and National Geographic networks.
Iger stressed Disney's commitment to theatrical product, which he described as "vital" to Disney, and took another opportunity to compliment Fox Searchlight. "Our strategy is to give the studio what it needs to continue to do what it does best and to also expand the brand's high-quality brand into the direct-to-consumer space with original television and film projects."
Iger declined to elaborate on Fox's ongoing pursuit of Sky. The latter has bought more time to prepare a new offer and is up against Comcast, the company that lost to Disney in the battle for 21st Century Fox's entertainment assets and has tabled a $34bn bid for the European pay-TV titan. Fox reports third quarter earnings on Wednesday.
The executive added that Disney was not looking to bundle its entertainment streaming platform with the ESPN sports app and Hulu, of which Disney now owns 60%. He said it was Disney's belief that consumers were more interested in avoiding a bundled, "giant aggregated play".
Iger said conversion rates from free trials of the ESPN app to paid subscriptions had been "strong".
The third quarter earnings report itself delivered a rare miss, as earnings per share reached $1.87 and not the expected $1.95, due to the disappointing box office of Solo: A Star Wars Story, and the huge commitment of the Fox acquisition.