MAY 31 UPDATE: Alice Through The Looking Glass opens with $65m overseas from its 43 territories.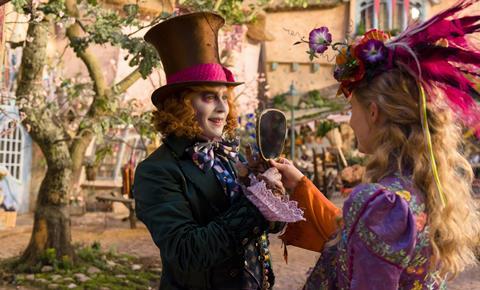 WALT DISNEY STUDIOS MOTION PICTURES INTERNATIONAL
Disney is expected to pass the $4bn milestone at the global box office today [May 29].
This surpasses the previous industry record timing set last year and marking the fourth consecutive year that the studio has passed the $4bn mark.
Alice Through The Looking Glass posted an estimated $65m on its overseas debut in 43 territories, including $5.1m from IMAX screens.
China provided almost half of the weekend gross with a muscular $27.1m opening, making it the second highest Disney live action debut (non-Marvel/Star Wars) ever behind The Jungle Book.
Mexico ($5m), Russia ($4.6m), Brazil ($4.1m) and the UK ($3.2m) rounded off the top five biggest openings for the fantasy sequel this weekend. It lands in France and Hungary next weekend.
In its fifth weekend of overseas release, Captain America: Civil War fought to a further estimated $12.5m from its 56 territories for $730.7m overseas and $1.11bn worldwide.
Marvel's latest is now the fourth biggest superhero film of all time overseas and globally, and also stands at the 15th highest grossing film of all time.
The Jungle Book and Zootopia stand at $539.1m and $655.6m overseas, respectively, and boast worldwide totals of $879.7m and $991.8m.
FOX INTERNATIONAL
X-Men: Apocalypse recorded an estimated $55.3m from its 79 territories in its second weekend of overseas release.
The latest X-Men outing now stands at $185.8m overseas and thanks to its three-day North American debut of $65m, Apocalypse reigns worldwide with a weekend of $120.3m.
Apocalypse landed in South Korea with a chart-topping $12m to mark Fox's third-biggest non-holiday opening of all time, while Brazil was the best holdover as it fell only 17% for $4.8m and a local tally of $13.5m.
The film also held the top spot in the likes of the UK and Australia despite new competition. It releases in China on June 3 and Japan on Aug 8.
Fox International Productions' The Wailing earned an extra $5.3m in South Korea to lift its running tally to $40.2m.
It is now the third-biggest Fox film of all time in the market behind Avatar and Kingsman: The Secret Service, the latter of which it'll overtake by next week.
SONY PICTURES RELEASING INTERNATIONAL
MAY 31 UPDATE: Flying into four new markets, The Angry Birds Movie catapulted to a confirmed $29.5m from its 87 markets for $155.3m to date.
In India, it set the new record for the biggest opening day for an animated film of all time on its way to a $1.9m debut, while it grossed $1.4m from 284 screens as it landed in Poland.
Angry Birds held well in China with a $9.9m second weekend for $46.3m to date, and added $1.3m in the UK for $8.3m ahead of the school holidays.
Money Monster uncovered $6.8m from its 41 markets for an early $17.1m internationally.
Germany was the best new opener with a preview-boosted $1.1m from 462 screens, while the UK and Brazil debuted with $1.2m from 400 screens and $830k from 220 screens, respectively.
It opens in Australia and Russia next weekend.
UNIVERSAL PICTURES INTERNATIONAL
MAY 31 UPDATE: Warcraft moved into the international marketplace with a strong confirmed $31.8m bow from its 20 territories through Sunday, opening at number one in 18 of them. Through Monday the tally climbs to $34.4m.
Russia led the way with the second biggest opening of 2016 at $10.4m and a market share of 63%, followed by $5.8m and $4.4m debuts in Germany and France, respectively.
In Sweden, Warcraft's $1.3m opening marked Universal's fourth-biggest opening weekend ever behind Fifty Shades Of Grey, Jurassic World and Furious 7.
Legendary Pictures and Universal Pictures' video game adaptation grossed $2.1m on 73 IMAX screens.
Warcraft has 45 more territories to open over the next two months, starting with Belgium, Brazil, Italy, Netherlands, Serbia and Montenegro, Spain and the UK next weekend.
Bolstered by a $1.2m opening in Mexico, Neighbors 2 partied to a further estimated $4.5m from its 38 territories for $36.8m to date. Its next release comes in Argentina on June 16.
The Huntsman: Winter's War landed in its final territory of Japan with $1.4m and now stands at $113.2m overseas, while The Witch scared up $1.1m from its ten territories for $12.8m to date.
BLOOM
MAY 31 UPDATE: Currently playing in 17 overseas territories, The Nice Guys grossed an estimated $3.7m for $6.4m to date. The film arrived at number three in Australia on $1.4m.
WARNER BROS PICTURES INTERNATIONAL
MAY 31 UPDATE: Batman Vs. Superman stands at $542.3m, while How To Be Single has reached $65.2m.