Speaking at the fourth Abu Dhabi Media Summit Andy Bird, chairman, Walt Disney International, has discussed how the company leverages the Disney brand in international markets.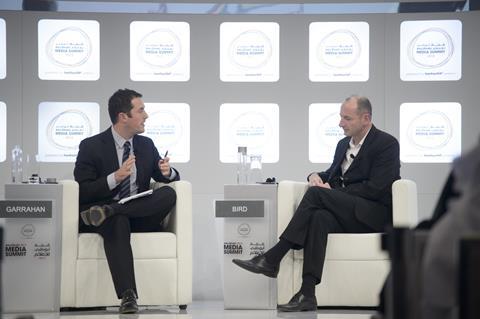 Bird, responsible for Disney's businesses outside of the US, told the audience that Disney sees significant opportunities to collaborate with the Middle East: "We have a team of about 20 people in Dubai building our business here," he explained.
"Over time it would be great to start to be involved in the creative community and story-telling community here. There are great stories to tell in this region - they are universal and global stories."
"We want to not only be regional specific but language specific," he said. "We're looking at this [growth] as much from the Arabic language perspective as we are from the Middle East perspective."
Bird said that Disney has evolved the way it operates in each international territory in order to connect with local consumers:
"Ten years ago there was little difference between local Disney offices. We're now striving to become not the Walt Disney Company China but the Chinese Walt Disney Company. We need to remain relevant to consumers in each market."
The executive explained that India has been a considerable success story for the company.
In recent years Bird has overseen the company's acquisition of Indian TV network UTV and games company India Games: "We now produce more movies out of India than Hollywood," he said.
China's heavy regulation has meant that Disney has needed to adopt different approaches to developing its brand in the boom territory. One way in has been through Disney English, a unique brand to China, specializing in English language teaching for 2 to 12 year-olds using Disney characters.
There are 44 Disney English Learning Centers in 10 cities across the country. By 2015, Disney plans to expand the program to 148 schools.
Another way in has been through theme parks. "We wanted to empower the local offices," says Bird.
During Bird's tenure Disney has also launched free-to-air Disney Channels in Russia, Turkey and Spain and launched Dlife, Japan's first foreign-owned and free-to-air channel targeting women and families.
Asked how Disney, which this year celebrates its 90th anniversary, has maintained and grown its global market position, Bird said: "We have stuck to our principles: great story-telling, innovation, creativity and use of technology."
Speaking about Disney's IP strength, Bird said that consumers are able to recognise the Disney brand more easily than those of other media companies and studios:
"If I said to everyone in the room today that we should go and watch a Disney movie you'd have a broad understanding of what you'd be in for… the same is true of Marvel, Pixar, Star Wars… If I said let's go and see a Sony or Universal movie that level of understanding would not be there - it is more title driven rather than the studio behind it."
Bird confirmed that Disney's most profitable of its 34 subsidiary companies is the TV network ESPN.