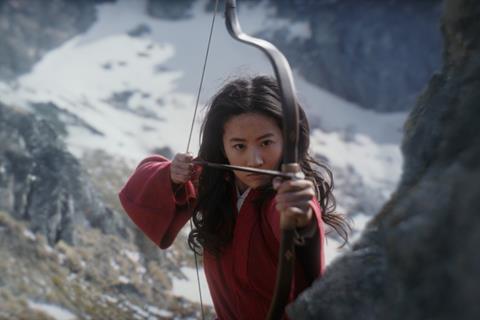 Adding another question mark to the future prospects of the global exhibition business, Disney has said it will launch the much delayed Mulan on September 4 as a premium VoD offering as well as in cinemas in "certain markets" around the world.
The potential blockbuster, originally set for worldwide theatrical release in March, will be offered to subscribers to the new Disney+ streaming platform in the US, Canada, New Zealand and "a number of countries" in Western Europe in September, for a price of $29.99.
Disney said Mulan will open theatrically on the same date "in certain markets where currently we have no announced launch plans for Disney+ and where theatres are open."
Disney+ is currently available in the US, Canada, Australia, New Zealand, the Netherlands, the UK, Germany, France, Italy, Spain, India and Japan. The service is set to launch in the Nordics, Belgium, Luxembourg, Portugal and Indonesia (the latter under the Disney+ Hotstar brand) in September and in Latin America in November.
The plan suggests that Mulan will still premiere theatrically in China, where cinemas are already open and where the film is expected to be a particularly powerful box office performer.
On a conference call with analysts to discuss the company's third quarter of 2020 results, Walt Disney Company chief executive officer Bob Chapek said the release plan for Mulan is "an opportunity to bring this incredible film to a broad audience currently unable to go to movie theatres, while also further enhancing the value and attractiveness of a Disney+ subscription with this great content."
Chapek denied, though, that the premium VoD (PVoD) plan for Mulan marked a company-wide move away from theatrical releasing.
"We're looking at Mulan as a one-off as opposed to trying to say that there's some new business windowing model," Chapek stressed. "That said, we find it very interesting to be able to take our premiere access offering to consumers and learn from it and see what happens, not only in terms of the uptake, the number of subscribers that we get on the platform, but the actual number of transactions that we get on that PVoD offering."
While announcing its results and the Mulan release plan Disney also revealed that Disney+ now has more than 60.5m paying subscribers around the world, already putting the service in the 60m-90m range the company forecast for the end of 2024 when Disney+ launched last November.
Disney also said it plans to launch a new direct-to-consumer general entertainment streaming service under the Star brand (which it inherited as part of its acquisition of 20th Century Fox assets) next year. Aimed at the international marketplace, the service will offer content from Disney-owned labels including ABC Studios, Fox Television, FX, Freeform, 20th Century Studios and Searchlight. In many markets, the marketing and technology aspects of the Star service will be integrated with those of Disney+.