Simon Chinn (Man On Wire) joined by Dogwoof, Discovery and BBC execs.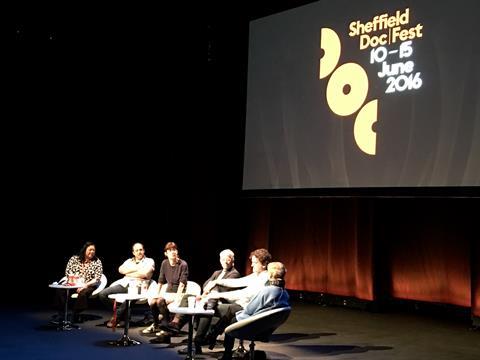 A Sheffield Doc/Fest panel titled 'How To Get Your Theatrical Doc Funded and Distributed saw industry heavyweights deliver a raft of advice.
Discovery Channel head of documentary and specials John Hoffman said every production company should be approachable "as you never know when the next great story will appear."
Hoffman recalled his tenure as a producer at HBO, citing that no documentary was ever overlooked. Using the film Rape in a Small Town: The Florence Holway Story as an example, he recalled when Jeffrey and Charlene Chapman contacted him via a cold call.
"They were both in their late 40s. They had never made a film, but when they heard about this woman in New England getting brutally raped, they jerry-rigged a camera to a three-quarter-inch deck and went to interview her."
While the HBO alum described the footage as nearly unwatchable, he also said its rawness was captivating. The film went on to be one of the company's most-watched feature documentaries.
Finding Sugar Man
Simon Chinn, co-founder of Lightbox Films, used Malik Bendjelloul's Oscar-winning Searching for Sugar Man as a similar example, remembering when he received an email from the unknown Swiss director.
"He gave me a poor summary of the film, and said he had been turned down by almost everyone for finance," Chinn recalled.
"We took a chance, and took it on board. It was incredibly hard to secure the financing but look at the film's journey."
But Chinn added the example was rare and said the broadcast world was generally risk averse when it came to lesser-known projects.
"It's tough for new film-makers, they have to learn to make a deal with broadcast studios, and navigate the production's journey on their own," he said.
Chinn suggested instead of partnering with like-minded producers and people with established records who are aligned with the same vision.
Golden ticket
Bertha Dochouse founder Elizabeth Wood, reiterated the importance of a great producer, insisting they are "the golden ticket" for young film-makers.
"We need more documentaries made that educate young audiences, and producers can greatly help in approaching the different financiers - there is a market there," said Wood.
"When we screened the small film Broken Borders: Queens of Syria about women in a Syrian refugee camp, we were incredibly surprised at how well it did."
Wood cited Sherpa as another success for the cinema, screening it to packed audiences over Christmas.
"Sometimes it works and sometimes it doesn't." added Wood, referencing their mixed programming of films from companies such sa Storyville and Dogwoof, as well as independent film-makers.
"But it's been very reassuring because we have been running for over a year with screenings four times a day."
Material world
With a more practical approach, BBC Storyville commissioning editor Kate Townsend suggested making materials such as a trailer and a pitch treatment.
"It doesn't need to be anything sophisticated; you just need something to quickly demonstrate that you have a film with a strong story and characters."
Dogwoof's Oli Harbottle also added to the practicality side of things and stated the audience that makes the decisions.
"The audience is king – they determine what films we buy, what kind of theatrical run and VOD release we set."