Kriegman discusses his documentary Weiner, which he co-directed with Elyse Steinberg, about the mayoral campaign of Anthony Weiner.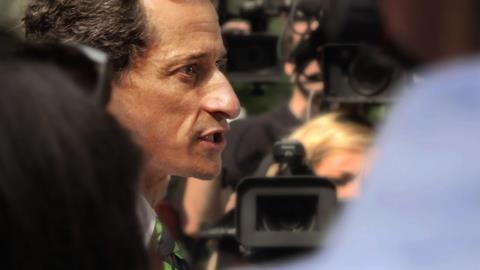 Weiner follows politician Anthony Weiner who, after being embroiled in an online sexting scandal resulting in his resignation from congress, attempts to rebuild his reputation while running for Mayor of New York City.
Director Josh Kriegman and Elyse Steinberg followed the Weiner campaign trial from day one, chronicling the many bumps along the journey and the constant media spotlight.
After premiering at Sundance in January, the film received a release in the US courtesy of the festival's distribution label Sundance Selects. The film plays at Sheffield Doc/Fest ahead of its UK release through Dogwoof on July 8.
Screen: How did Weiner first come about?
JK: I was Anthony Weiner's chief of staff for a couple of years when he was in Congress, I got to know him well through that work. I left politics for film-making before his first scandal and resignation from Congress.
It was after that I pitched him the idea of telling his story, we had the conversation over the course of a couple of years to figure out how to do it. It was on the morning he announced he running for mayor of New York City that he finally agreed to let us in.
Why do you think he chose that moment?
That's a key question in the film. I do actually ask him at the end, he says that he hopes the film will be more than just the punchline version of his story. That was also our intention.
Anthony is a very funny guy, he has this incredible energy, we really wanted the film to reflect that. We set off with the perspective that, here is somebody who has been reduced to caricature, ridiculed, I knew him and saw him as a much more complex person.
How did he receive the final film?
As far as I know he hasn't seen the film. We offered to show it to him before it was finished but he said he didn't want to see it, he's not eager to relive it, which is something we can respect. I'm sure he'll see it at some point.
Do you think the film has affected public perceptions of Anthony?
The responses from audiences have been very wide-ranging, which is gratifying.
So many people got to know him through the scandal, the flurry of headlines. Some people feel the film reinforces their preconceptions of him, while others feel the film fundamentally challenges their ideas. Time will tell on the long run what impact it will have on his story.
The media play an intrinsic role in both the rise and fall of Anthony Weiner…
We hope people think the film goes beyond Anthony's campaign story. It's also a film about politics, the media, and what has happened to political conversations.
I think what we see in the film is a really troubling trend away from substance and towards spectacle. Anthony wanted nothing more than to talk about real issues rather than his scandal, but of course he couldn't. We see a similar troubling trend breaking out in the current presidential cycle.
How does the film sit into the current political narrative in the US?
Donald Trump, perhaps better than anybody, knows how to exploit the impulses of modern media in a way that is entertaining but has very little to do with real substance.
Weiner and Trump are at complete opposite ends of the political spectrum but they both recognise a fundamental truth of politics, which is that to have a voice you have to put on a show.
How have you found the switch from the political arena to the film-making arena?
There's an interesting overlap. I've always loved campaigns, there's nothing like the intensity and camaraderie of politics, but the film-making process comes close, it's a very tight team effort. Making this film was a familiar feeling, having been through campaigns with Anthony before.
What's up next?
Me and my co-director Elyse Steinberg have been a directing team for five years now, we're excited to keep working together. We're developing another project but it's early stages. It'll be outside of politics. I love politics but there are a lot of other things I love as well.