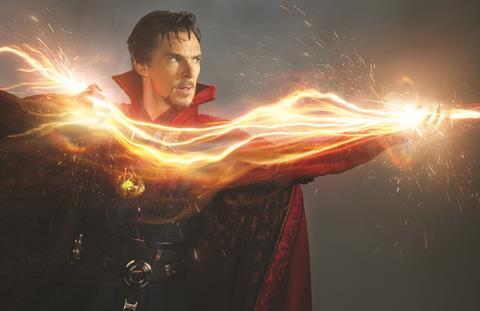 Disney's Doctor Strange In The Multiverse Of Madness and Sony's Spider-Man: Far From Home sequel are among major features getting new release dates as the Hollywood studios re-draw their schedules in preparation for an easing of the pandemic shutdown.
Benedict Cumberbatch's second solo outing as Doctor Strange has had its North American release pushed back again, this time by more than seven months, from November 5, 2021 to March 25, 2022.
Disney has also moved the release of Thor: Love And Thunder up from February 18, 2022 to February 11.
North American release of the as yet untitled sequel to Marvel Studios' Far From Home, meanwhile, has been delayed by four months, moving from July 16 of next year to November 5.
Sony has also moved its sequel to animated Oscar winner Spider-Man: Into The Spider-Verse, from April 8, 2022 to October 7 of that year.
Other changes to the Sony domestic schedule see animation Connected shifting from September 18 this year to October 23; sequel Escape Room 2 moving from December 30 this year to January 1, 2021; Paul Weitz drama Fatherhood going from October 23 this year to April 4 next year; Vivo, Sony Pictures Animation's first musical adventure, landing on June 4, 2021 rather than April 16; and Tom Holland/Mark Wahlberg action film Uncharted moving up from October 8, 2021 to July 16 that year.
Also on the Sony schedule, Hotel Transylvania 4 has been moved from December 22, 2021 to August 6, 2021 and Woody Harrelson/Kevin Hart action comedy Man From Toronto from November 20 this year to September 17, 2021.
Dakota Fanning/Elle Fanning period drama The Nightingale, which had been set for December 25 this year, is now awaiting a new release date.