Doctor Strange DoP Ben Davis discussed the visual palette and context of the anticipated superhero film starring Benedict Cumberbatch at BAFTA.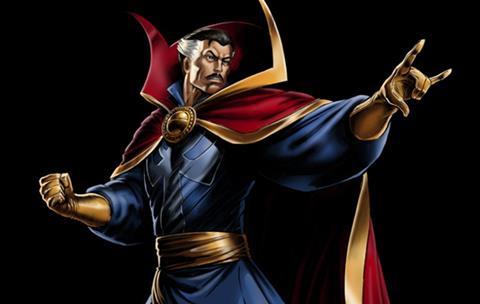 Cinematographer Ben Davis has shed light on the look of Marvel's upcoming Doctor Strange, which is set to shoot in the UK later this year starring Benedict Cumberbatch in the title role.
Davis, who was director of photography on Guardians of the Galaxy and also lensed Avengers: Age of Ultron for the mini-studio, revealed that the film is set for a "dark" palette and "psychedelic grounding".
Speaking at a BAFTA Masterclass in London last night (Aug 4), Davis suggested that the film's visuals will be influenced by the images of 20th century artist M. C. Escher, known for his mathematically inspired woodcuts, lithographs, and mezzotints, featuring impossible constructions and explorations of infinity.
"Marvel's Fantasia"
"It has a very psychedelic grounding, and it's not your typical Marvel action movie," he stated, before noting that his initial reaction to the project was that it could be "Marvel's Fantasia".
"Most of the work within it is about other dimensions. And I described it, I think, when I was talking to Marvel as Marvel's Fantasia, in a way, because it's so sort of out there and different to everything else that they've done."
"There's a lot of previsualisation, and there's a lot of work which is very hard – you look at it and you see the imagery that they've created for it and you think, 'well how the hell do we shoot that!?' because it's all sort of Escher stuff.
"It's all very out there," he continued. "I can't really say much more about it, I'm afraid. But I think it'll be really interesting, and it's a very dark movie, I'm pleased to say.
"DP's always love the word 'dark'. The trouble is that most producers don't like dark. Mostly you get into DI [Digital Intermediate process] and people don't seem to like dark anymore!"
Plot and character details are being kept largely under wraps on the Scott Derrickson-directed feature, whose comic source material follows a brilliant, renowned and very arrogant neurosurgeon whose career is abruptly cut short by a car accident.
With his hands too damaged to perform surgery, Strange is driven to desperate measures to try and heal himself, and eventually turns to magic.
It is through his discovery of the mystical arts that he ultimately earns the 'Sorcerer Supreme' moniker, and through his new role as Earth's protector that he becomes a better man.
Cumberbatch, star of Sherlock and The Imitation Game, leads the cast alongside Chiwetel Ejiofor and Tilda Swinton among the supporting roles.
Doctor Strange is scheduled for release on October 28, 2016 in the UK, and a week later in the US on November 4.
Erosion of DoP role
During the wide-ranging masterclass Davis expressed concern for what he termed the "erosion of the role of cinematographer".
He lamented that digital post-production processes and the reliance on previsualisation for many effects-heavy films can mean that control over a film's images are increasingly in the hands of vfx artists.
"The protocols aren't properly established. A film set runs on protocols – it's like Henry VIII's court. And the reason it's like that is because it works.
"Unfortunately, with the DI, with all these new technologies, those protocols don't exist properly, or they do, but you have to fight for them."
"It can become very political," he added. "One of the big battles for cinematographers now is to keep authorship, or to keep some sort of control over images once you've wrapped production."
Davis on his career
Avengers: Age of Ultron
"You could literally, in the viewfinder of the camera, frame up the [CGI] characters moving through the space, even though they're not there…
"I'd be on an empty street like this and the Hulk would run down and I'd pan with them. It was incredible. So those technologies are great. In that instance it was very useful."
Guardians of the Galaxy
"Of all the films I've ever done, I don't think there's been a film as microscopically planned as that was in terms of every shot and every scenario and every lighting set up."
Before I Go to Sleep
[On filming Nicole Kidman's character's video diaries]
"There are shots where she has her little camera that she records herself on, and I just remember thinking 'Oh my god what's Nicole gonna say when she sees that shot!?' because it's a camera held here on a wide angle lens, and they're not particularly flattering shots. But Nicole was great."
Seven Psychopaths
"With Sam Rockwell you never know what he's going to do. He'd walk out and you'd shoot the rehearsal. And it was always brilliant. It'd always have me in hysterics.
"The biggest problem was that you had to lock the camera because it was shaking!"
Kick Ass
[On shooting a strobe-lit action sequence]
"We conducted all sorts of tests with strobe lights. They're very difficult to photograph because, particularly if you're shooting digitally, you get a lot of rolling shutter artifacts.
"In the end the best way to do it was just to film it all and put the black frames in. And then the edit possibilities are endless."
Layer Cake
"That was Matthew's [Vaughn] first film as a director. Daniel [Craig] was very, very influential in that film. He put a lot of work into that.
"There was very much a creative core, and everything was discussed and worked out."