The world premiere of Dominik Moll's Only The Animals will open Venice Days, the independent strand of the Venice film festival that will run alongside the festival from August 28 - September 7.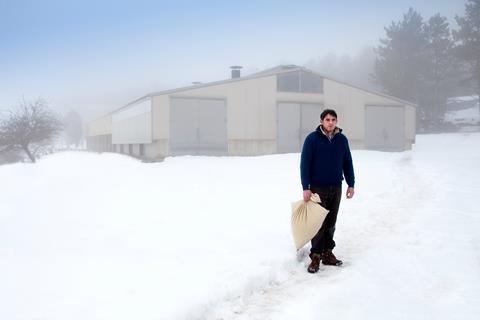 Moll's film will play in competition, alongside 10 other titles, while Bartabas' Time Of The Untamed will close the festival, out of competition.
German-born French director Moll's previous credits include With A Friend Like Harry, which premiered at Cannes in 2000 and was Bafta nominated.
Elsewhere, Italian graphic novelist and director Igort (Igor Tuveri) premieres his crime drama 5 Is The Perfect Number, which is based on his own comic and stars Toni Servillo and Valeria Golino.
Manele Labidi is premiering her feature Arab Blues, which stars Golshifteh Farahani.
There is also a debut for a new sales company in the programme, with Montreal-based WaZabi Films, the new label set up by former Seville International executives Lorne Price and Anick Poirier, representing Fabienne Berthaud's A Bigger World.
One title will take home the €20,000 Venice Days cash prize, which is selected by 28 young filmgoers, one from each country in the European Union.
Outside of the features, British director Lynne Ramsay will premiere a new short film, Brigitte, about the French photographer Brigitte Lacombe. The film is the latest in a series called Miu Miu Women's Tales which were commissioned by fashion house Prada.
VENICE DAYS COMPETITION 2019
Only The Animals (Fr-Ger) OPENING FILM
Dir: Dominik Moll
Intl sales: The Match Factory
Lingua Franca (US-Phil)
Dir: Isabel Sandoval
The Weeping Woman (Gua-Fra)
Dir: Jayro Bustamante
Intl sales: Film Factory Entertainment
Corpus Christi (Pol-Fra)
Dir: Jan Kamasa
Intl sales: New Europe Film Sales
You Will Die At 20 (Sud-Fr-Egy-Ger-Nor)
Dir: Amjad Abu Alala
Intl sales: Pyramide Films
Arab Blues (Tun-Fra)
Dir: Manele Labidi
Intl sales: MK2
A Bigger World (Fra-Bel)
Dir: Fabienne Berthaud
Intl sales: WaZabi Films
Beware Of Children (Nor-Swe)
Dir: Dag Johan Haugerud
Intl sales: Picture Tree International
5 Is The Perfect Number (Ita-Bel-Fra)
Dir: Igort
Intl sales: Playtime
The Long Walk (Laos-Esp-Sing)
Dir: Mattie Do
Intl sales: 108 Media
They Say Nothing Stays The Same (Jap)
Dir: Joe Odagirl
Intl sales: Kino International
OUT OF COMPETITION
Time Of The Untamed (Fra) CLOSING FILM
Dir: Bartabas
Intl sales: MK2