Legendary comedian had roles in Toy Story and Casino.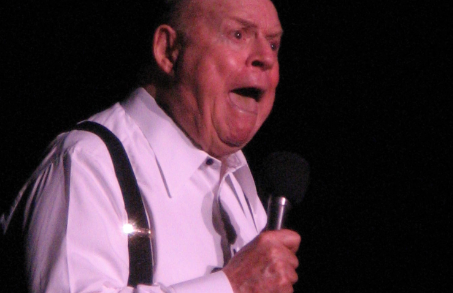 Don Rickles, legendary comedian and actor, died on Thursday in Los Angeles of kidney failure. He was 90.
Born in New York City, Rickles began his career in nightclubs where he earned his reputation as an insult comic after his manner of responding to hecklers became as popular as the material itself.

Rickles' career spanned more than six decades and included continued stand-up routines, acting in television and film, as well as regular appearances on The Tonight Show Starring Johnny Carson and Late Show with David Letterman.

The comedian may be best known to contemporary audiences as the voice of Mr. Potato Head in Pixar's Toy Story films, including the latest instalment, Toy Story 4, due to hit theatres in 2019.

He got his break in the 1958 war film Run Silent Run Deep alongside Clark Gable and Burt Lancaster, followed by dramatic turns in The Rabbit Trap and X: The Man With The X-Ray Eyes. In 1995, Rickles played opposite Robert De Niro in Martin Scorsese's Casino.

His work in the 1960's included regular appearances in the Beach films alongside Annette Funicello and others.

After unsuccessful attempts at shows of his own like The Don Rickles Show that lasted a single season in 1969 and the mid-70's sitcom C.P.O. Sharkey that lasted two, he found greater success in other shows.
Of note were the many appearances on The Dean Martin Celebrity Roasts that ran on NBC in the 70's and 80's, guest star spots on shows like Newhart, The Lucy Show and Murphy Brown in the 90's, and Hot In Cleveland in 2011.

The comedian published his memoir, Rickles' Book, in 2007. The same year, John Landis directed a documentary on Rickles called Mr. Warmth: The Don Rickles Project, which aired on HBO and earned Rickles an Emmy.

In 2014 Spike TV aired the special One Night Only: An All-Star Comedy Tribute to Don Rickles, in which the comedian was honoured by David Letterman, Jerry Seinfeld, Jon Stewart and Scorsese, among several others.

Rickles leaves behind his wife of 52 years Barbara, daughter Mindy, son Larry, and two grandchildren.

In lieu of flowers, the family requests that donations be made to the Larry Rickles Endowment Fund at Children's Hospital Los Angeles.