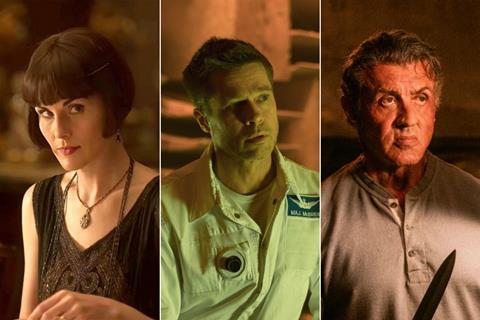 | | | | | |
| --- | --- | --- | --- | --- |
| Rank | Film (Distributor) | Three-day gross (Sept 20-22) | Total gross to date | Week |
| 1 | Downton Abbey (Universal) | £3.3m | £13.2m | 2 |
| 2 | Ad Astra (20th Century Fox) | £1.7m | £2.7m | 1 |
| 3 | It: Chapter Two (Warner Bros) | £1.4m | £16.2m | 3 |
| 4 | Hustlers (STX) | £1.1m | £3.3m | 2 |
| 5 | Rambo: Last Blood (Lionsgate) | £878,360 | £1.1m | 1 |
Today's GBP to USD conversion rate: 1.24
Universal
Period drama Downton Abbey held its UK box office crown for a second weekend, falling a moderate 36% in taking £3.3m.
The film has £13.2m after two weekends. This is the eighth-highest total after two weekends in the UK this year, the third-highest excluding Disney titles, and highest for Universal.
It has already passed the £12.3m record UK gross for writer Julian Fellowes (for Gosford Park), and will now look to push towards the top 10 for the year.
In doing so, it could surpass another Universal title, Fast & Furious: Hobbs & Shaw, which hit 10th spot for the year, taking £97,016 on its eighth weekend for £20.3m to date.
Good Boys added £35,679 for £3.1m.
20th Century Fox
Brad Pitt space drama Ad Astra scored a decent result on its opening weekend, taking £1.7m Friday to Sunday for second place. It averaged £2,764 per location
By the oft-used comparison of titles in the UK taking 10% of the US dollars total, the film is slightly down on its stateside result of $19.2m.
It is also behind the £2.4m opening of Damien Chazelle's genre comparision First Man from October 2018.
However, after opening on Wednesday 18, the film has £2.7m overall, which already marks a record UK gross for director James Gray, topping We Own The Night's £1.9m total.
Pedro Almodóvar's Pain And Glory added £34,823 for £1.4m after five weekends; while Bollywood romantic comedy The Zoya Factor opened to £28,793 from 68 locations.
Warner Bros
It: Chapter Two fell 56% on its third weekend, taking £1.4m to move it to £16.2m total. The film will finish short of 2017's It, which took £32.4m.
Crime drama The Kitchen disappointed on opening, taking just £107,000.
STX
Toronto title Hustlers starring Jennifer Lopez and Constance Wu dropped a slim 22% on its second weekend, topping £1m again with a £1.1m Friday to Sunday. The film now has £3.3m, tracking towards a decent result for STX.
Lionsgate
Franchise action title Rambo: Last Blood suffered on its opening weekend, taking £878,360 and with a £1,726 screen average – low for a first session.
With previews, the film has £1.1m, still below the £1.2m of 2008's Rambo, the franchise's most recent title.
Angel Has Fallen added £171,570 for £7.1m after five weekends.
Disney
It was another strong weekend for the Disney franchise titles.
The Lion King finally slipped out of the top five after 10 weekends, adding £375,000 for £74.3m to date. It is now the eighth-highest grossing title of all time in the UK, moving beyond Toy Story 3.
Toy Story 4 added £260,000, dropping just 4% on its previous session and holding a 14th consecutive week in the top 10. With £65.2m, it is the third highest-grossing film of 2019.
Aladdin added £39,000 for £37.1m and is number five in the UK rankings for 2019.
Sony
Quentin Tarantino's Once Upon A Time… In Hollywood became only the seventh 18-rated title ever to pass £20m at the UK box office, adding £273,000 for £20.4m after six weekends.
The Angry Birds Movie 2 went up 2%, taking £105,000 on its eighth weekend for £5.1m cume.
Spider-Man: Far From Home added £39,000 for £37.1m to date.
Paramount
Dora And The Lost City Of Gold added £273,000 on its sixth weekend, dropping just 2% on its previous session and hitting £5.5m total.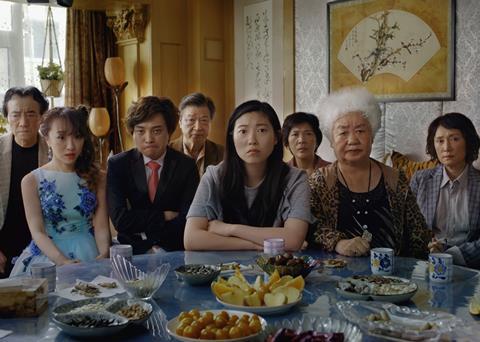 Entertainment Film
Lulu Wang's Sundance 2019 title The Farewell, which picked up the audience award at Sundance London in June, started with £207,456 from 99 locations, including £40,970 in previews.
BFI Distribution
Mark Jenkin's Berlin 2019 black-and-white drama Bait added £18,143 for £264,665. This marks a strong result for a film that started with £32,264 in August, indicating decent word-of-mouth.
Curzon
Joanna Hogg's Sundance 2019 title The Souvenir added £17,922 and has £438,774 after four weekends.
Altitude
Horrible Histories: The Movie – Rotten Romans added £16,994 for £2.8m to date.
Vertigo Films
Mrs Lowry & Son starring Timothy Spall added £15,264 to reach £918,776.
Republic Film Distribution
Waad al-Kateab and Edward Watts' Syrian war documentary For Sama added £13,866, dropping 43% on its first weekend. It has £83,463 in total, a result four times its US takings.
CinemaLive
In event cinema, a screening of Verdi's opera Rigoletto On The Lake took £135,500 on Tuesday 17, with previews taking it to £142,374.