Despicable Me 3 crosses $700m worldwide; Valerian takes $6.5m from small forays.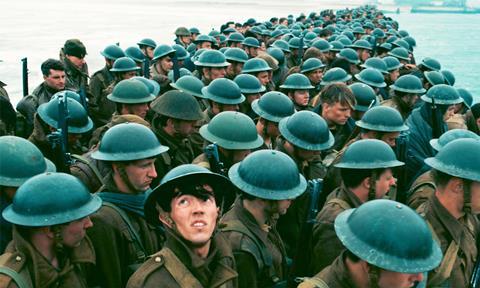 WARNER BROS PICTURES INTERNATIONAL
UPDATED: Dunkirk is the number one film internationally, opening on $56.9m in 46 markets.
Christopher Nolan's Second World War drama debuted at number one in all major markets, including the UK, France, Russia, Spain, South Korea and Australia.
Dunkrik dominated the Asian markets on $18.7m, collectively out-grossing all comps including Nolan's own Inception by 22%.
The 34 markets that opened in EMEA took in a shared $32.2m, representing 57% of the total international box office and coming in 62% ahead of American Sniper. Western Europe is 13% ahead of the opening weekend for Interstellar.
The film debuted in the UK on $13.1m on 1,313 screens, capturing a 51% share of the top five films, and bringing in the best per-screen average. These results rank as the third biggest opening for Nolan film behind The Dark Knight Rises and The Dark Knight.
Dunkirk commanded 54% share of the top five films in South Korea after grossing $10.4m from 1,252 screens.
France generated $5.3m, coming in on par with the opening weekend gross for Interstellar. Australia produced $4.9m as Dunkirk took 50% market share, while Russia generated $2.5m on 2,119 screens, garnering a nearly 36% market share.
India delivered $2.4m on 417 screens as the film ranked as the number one foreign film in the market. The film outgrossed all comparable titles and is the second highest opening for a Nolan film behind The Dark Knight Rises, and is the biggest IMAX opening ever.
Spain generated $1.9m on 401 screens as Dunkirk captured the best screen average.
It debuts this week in Germany, Brazil and Mexico.
IMAX produced an estimated $6.7m from 231 screens, representing approximately 12% of total international weekend box office.
Wonder Woman added $1.9m from 56 markets, bringing the international gross to $390.6m. Patty Jenkins' tentpole now stands at $779.6m worldwide.
China remains the top market on $89m, followed by Brazil on $33.3m, the UK on $27.8m, Australia on $23.1m, Mexico on $22.5m, France on $15.6m, South Korea on $15.5m, and Taiwan on $11m.
The film starring Gal Gadot has reached $10.6m in the Philippines, while Germany has produced $8.8m, Indonesia $8.6m, and Russia $8.5m. Japan is the final territory to release on August 25.
UNIVERSAL PICTURES INTERNATIONAL
UPDATED: Illumination's Despicable Me 3 has crossed $700m at the worldwide box office. Internationally, the film grossed $50.5m in 63 territories for a total of $518.9m. When combined with $213.6m from North America, the worldwide total is $732.5m
The family title opened at number one in Japan on Friday on $6.7m, beating the two previous Despicable Me films and arriving slightly below Minions' opening weekend.
China is holding at number four behind three local films. The film grossed $9.7m there for a market total of $135m and is the second highest non-Chinese animated film behind Zootopia.
Latin America delivered solid holdovers including number one for the fourth week in a row in Argentina and Uruguay, ahead of the opening of Transformers 5 in both. Germany is holding the top spot for the third week in a row on $4.6m and ahead of the opening of Valerian. Germany stands at $25.4m.
The UK placed at number two behind the opening of Dunkirk. Now in its fourth weekend, the film grossed $4m for a total of $39.2m. Mexico generated $31.7m, Brazil $31.5m, France $26.2m, Australia $23.9m, Russia $23m, Argentina $19.3m and Spain $17.8m.
There are five more territories to release over the next month including South Korea this week.
The Mummy grossed $1m in 54 territories, raising the international total to $313.1m. Combined with $79.4m from North America, the worldwide total is $392.5m.
China is the top grossing market on $91.5m, followed by South Korea on $27.6m, Russia $16.9m, Brazil $14.2m, Mexico $13m, and the UK $11.2m.
France has produced $9.8m, Taiwan $9.4m, Spain $9.1m, Indonesia $8m, Germany $8m, Australia $7.8m, and India $7m. Malaysia has generated $5.5m, Hong Kong $5.1m, Italy $5.1m, Argentina $4.5m, and Colombia $4m. Japan is the final theatrical release this week.
The Beguiled is in release in 12 territories and brought in an additional $496,000 for an early total of $3.3m. The film stands at $13.5m worldwide, with $10.2m coming from North America.
The UK is the top holdover on $180,000 for $1.1m. Australia produced $153,000 over the weekend for a total of $689,000. The film opens this week in Russia and Taiwan.
SONY PICTURES RELEASING INTERNATIONAL
UPDATED: Spider-Man: Homecoming grossed a further $33.4m from 64 markets, raising the international total to $320m.
Latin America set a new franchise record for the region as the highest grossing Spider-Man of all-time. The film is showing strong holds in its third weekend, off 49% to gross $8.2m, which brings the regional total to $77.4m. Top market Brazil generated another $3.3m to raise its total to $25.7m, while Mexico produced $1.7m for $24.2m.
In South Korea, Spider-Man: Homecoming now ranks as the 10th highest grossing international release of all time. The film added $4.5m for $48.8m.
Western Europe also held strong as a region, down 47% to earn $10.4m for $66m. France generated $3.4m in its second weekend, raising the market total to $11.1m. The UK took in $2.8m in its third session, off 43% to bring the total to $27.3m. Germany produced $1.9m for $6.7m. Spain, Japan, and China have yet to open.
Baby Driver grossed $8.5m from 28 total markets. France led the way on $1.8m, including previews, and the action film debuted in Malaysia at number two on $636,000, including previews.
The film starring Ansel Elgort, Jon Bernthal, Jon Hamm and Eiza González stands at $34.6m with 55% of the release still to come, including Brazil and Germany this week.
PARAMOUNT PICTURES INTERNATIONAL
Transformers: The Last Knight grossed $24.9m from 62 markets, including 14 new openings. The tentpole has amassed $420.2m from the international box office.
Michael Bay's latest instalment had franchise-best openings in six markets, including Argentina, Bolivia, Brazil, Colombia, Paraguay, and Venezuela.
Mexico debuted at number one on $7.5m, while a $4.4m number one opening in Brazil was the biggest of the franchise in that market. Argentina produced number two on $2.3m, and Panama $2m for first place, while Columbia delivered number one on $1.9m. France delivered $516,000 for $10.5m and Germany produced $484,000 for $14.5m.
Baywatch grossed $3.5m from 48 markets, including four new openings. Indonesia produced a number four debut on $685,000, the UAE produced $530,000, while Portugal generated $391,000. The tentpole stands at $111.7m.
FOX INTERNATIONAL
UPDATED: War For The Planet Of The Apes added $17.2m from 63 markets for a running total of $77m. The film saw strong holds in territories like the UK, which produced $3.5m for $16.3m for third place, and a second place finish in Russia on $1.9m for $8.9m.
Spain delivered $1.2m for $6.2m and Hong Kong produced $922,000 for $3.3m. The film opens in five markets this week, including Australia, Mexico, and Poland.
Captain Underpants: The First Epic Movie grossed a further $1.1m from eight markets. Poland produced $230,000 and Chile $257,000, lifting the international total to $10m. The animation opens in the UK on July 24.
CHINA UPDATE
Brotherhood Of Blades II: The Infernal grossed $16m to reach $25.2m. Wu Kong added $12.3m for $85.4m, and Father And Son $11.1m for $12m.
WALT DISNEY STUDIOS MOTION PICTURES INTERNATIONAL
UPDATED: Cars 3 added $11.9m for $106.2m internationally as it starts to play into the holiday period. Pixar's latest animation posted strong holds in the Netherlands where it dropped just 8%, while Argentina and the UK dropped 35% and 38%, respectively. Brazil and Japan both dropped 44% from last weekend.
Mexico remains the top grossing territory on $15.5m, while Russia stands at $10.5m, Australia $9.7m, Brazil $7.3m, and Japan $7.2m. The UK has grossed $6.6m, Argentina $5.1m, and Spain $4.2m. There are four key markets yet to open.
Pirates Of The Caribbean 5 stands at $596.7m internationally. In Japan it added another $3.3m in its fourth weekend of release, dropping by only 38% from last weekend to take the total to $42.9m after 23 days of release.
China is the top market on $172.3m, followed by Japan on $42.9m, Russia on $40.6m, Germany on $30m, and France on $28.3m.
EUROPACORP
Valerian And The City Of A Thousand Planets grossed $6.5m from 16 markets, which combines with North America for an early $23.5m worldwide tally. It debuted in second place in Germany on $2.9m and ranked number one in Thailand, the Philippines, Romania and Hungary.
International roll-out will continue throughout the summer starting with filmmaker Luc Besson's native France this week, and following with the UK, Mexico, Brazil, South Korea, Russia, and China.