Disney's Pirates Of The Caribbean 5 hits $600m.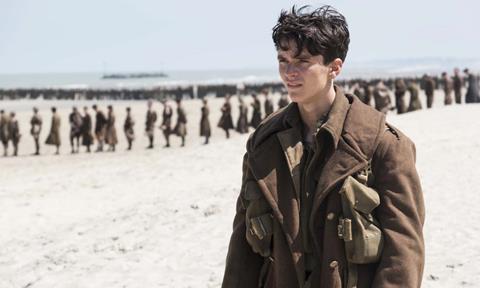 Christopher Nolan's acclaimed war film Dunkirk has grossed $82.4m through Warner Bros Pictures International and is expected to soar past $100m in the coming days.
The tentpole opened number one at the international box office last weekend on $59.6m and arrives in Brazil, Germany and Mexico. Combined with the $69.5m from North America, Dunkirk stands at $151.9m worldwide and stands a chance of crossing $200m this weekend.
Fionn Whitehead, Barry Keoghan, Aneurin Barnard, and Harry Styles star alongside Tom Hardy, Cillian Murphy, Mark Rylance, and Kenneth Branagh.
Wonder Woman has reached $391.9m and The House stands at $7.3m. Everything, Everything has grossed $16.4m, while King Arthur: Legend Of The Sword has amassed $104.2m
War For The Planet Of The Apes stands at $80.2m through Fox International and debuts this weekend in five territories, including Australia, where it is expecte to perform well. Captain Underpants: The First Epic Movie has reached $10.1m as it arrives in the UK. Diary Of A Wimpy Kid: The Long Haul arrives in Spain on $158.3m.
Spider-Man: Homecoming has reached $320.4m through Sony Pictures Releasing International. Edgar Wright's film Baby Driver has consolidated its status as the British director's biggest global hit and stands at $34.7m outside North America and $121m worldwide.
Pirates Of The Caribbean 5 stands at an even $600m through Walt Disney Studios Motion Pictures International with all markets opened. Cars 3 has grossed $112.9m and opens in six, including the Philippines.
Transformers: The Last Knight has grossed $429.5m through Paramount Pictures International, while Baywatch has grossed more than $113.8m.
Illumination's Despicable Me 3 stands at $549.1m as it heads into South Korea this weekend through Universal Pictures International, while Tom Cruise vehicle The Mummy on $313.4m arrives in Japan.
Sofia Coppola's The Beguiled has grossed an early $3.6m and opens in Russia, Taiwan and Cyprus.
EuropaCorp's beleaguered Valerian And The City Of A Thousand Planets has opened in France and Luc Besson and his partners, fully aware the sci-fi has all but flopped in North America, will be anxious to see a strong result after a solid debut in Paris.