Ed Skrein, Hermione Corfield and Laurence Fox have wrapped shooting Born A King, a historical drama from the Oscar-winning producer of Belle Epoque.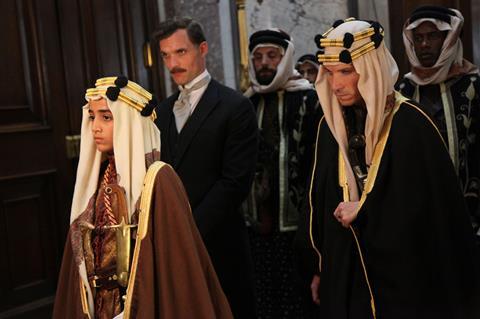 Set in 1919, the film tells the story of 14-year-old Prince Faisal, who is dispatched by his father, the king of Saudi Arabia, to London on a high-stakes diplomatic mission to secure the formation of his country. Young actor Abdullah Ali makes his debut in the role of the prince.
The project is a British-Spanish co-production led by Andrés Vicente Gómez, whose credits as a producer include Belle Epoque, which won the foreign language film Oscar in 1994. This is his first production since the Salma Hayek-starring As Luck Would Have It, which was nominated for two Goyas in 2012.
Born A King filmed in London and Saudi Arabia. According to the producers, the film is the first western project to have shot in Saudi Arabia. Producer Gómez says he spent four years negotiating with the government to obtain permits.
The reported €18m budget was raised from private equity sources in the UK and Spain. The producers say they are currently in negotiations with sales agents to represent the project.
The producers are also planning to self-distribute the film in Saudi Arabia next year following the recent news that the country will allow cinemas to re-open for the first time in 35 years.
Stuart Sutherland of Celtic Films was a co-producer on the project. The screenplay was written by Henry Fitzherbert, who is also writing Simon Pegg and Nick Frost's upcoming comedy-horror Slaughterhouse Rulez, alongside Bader Al Samari and Ray Loriga. The director is Agustí Villaronga, whose credits include the Cannes competition title Moon Child, the Berlin competition title El Mar, and the Goya-winning Pa Negre.
Also in the cast of Born A King are Kenneth Cranham (Maleficent), James Fleet (Sense And Sensibility) and Rubén Ochandiano (Biutiful).
Andrés Vicente Gómez commented: "With this film we have made history, not only because it is the first European film shot in Saudi Arabia, but also because we hope to release it in a country where film theatres do not exist at the moment. We hope to raise awareness of the story of King Faisal, a key figure in the history of the Middle East."